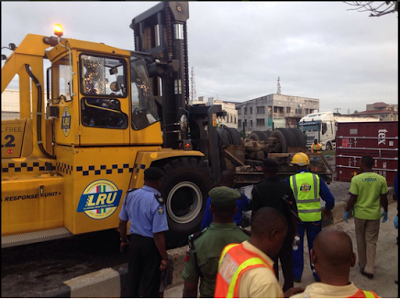 The General Manager, Lagos State Emergency Management Agency (LASEMA), Michael Akindele, has advised owners of articulated vehicles and trucks to check the road worthiness of their vehicles.
He gave the advice at an accident scene involving a 40 ft. container laden with stationery, with registration number XA 309 MUS at Ijora Olopa area of Lagos State.
Akindele said that the cause of the accident was due to reckless driving by the container truck driver while he was trying to make a U-turn at a roundabout.
"The truck tripped and fell across the road but no injury or mortality was recorded," he said.
He said the agency's Emergency Response Team (ERT) and the officials of the Lagos State Traffic Management Agency (LASTMA) were able to evacuate the container off the road.
Akindele said the container was moved away with the use of the agency's heavy-duty equipment to allow free flow of vehicular movement on the road.
He urged owners of container trucks to ensure proper checks on the roadworthiness of their vehicles and to engage experienced drivers.
Akindele said that this would reduce incessant traffic accidents on Lagos roads.