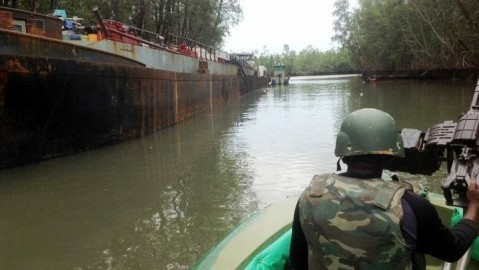 The 133 Special Forces Battalion of Nigerian Army troops have carried out a precursor operation to Exercise CROCODILE SMILE aimed at getting rid of all forms of criminal activities in the Niger Delta geo-political region of Nigeria.
In the course of the operation, five militants that attacked the troops were killed in action, while numerous others were injured and 23 suspects were arrested.
The operations, which was conducted yesterday (Friday), was carried out  by the Special Forces at the militants camps.
Items recovered from the camps include two AK47 rifles, 11 pump action guns, a locally made revolver pistol, 292 cartridges of live ammunition, 199 rounds of AK-47 rifle Ammunition, 4 electricity generating sets and a camp gas cooker.
The troops also recovered an abandoned engine boat left by the fleeing criminals.