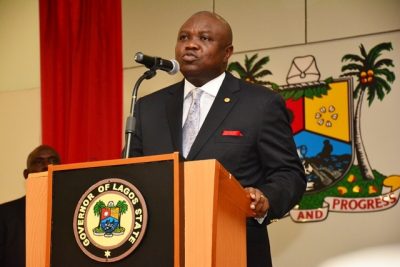 The reconstruction of the dilapidated Apapa-Oshodi Expressway in Lagos begins in two weeks time, Governor Akinwunmi Ambode disclosed on Wednesday.
Ambode, who spoke at the 2018 third quarterly Town Hall meeting in Ibeju-Lekki area of Lagos, lamented that the road had been in deplorable condition for long.
The governor also decried the perennial gridlock in Apapa in the last few weeks, but noted that in the last one week, there had been appreciable improvement in traffic experience within the axis.
Ambode said it was pathetic that gridlock in the axis had become a perennial issue  in the state, saying "it goes and come. But the challenge is to give a permanent solution and in that reason, the President directed the Vice President to visit Lagos and provide permanent solution.
"We are grateful to the President for his intervention. We believe that every layer of government should collaborate to resolve the crisis. But we all must know that Apapa crisis is more than traffic issue.
"That is where all states depend on for revenue through Customs because the revenue is shared at FAAC. If anything goes wrong in port, that is, whatever they get from the place could reduce. It is a national issue and must be addressed as same immediately."
According to Ambode, the problem in Apapa was that there were too many agencies and establishments disturbing the fundamentals within the axis.
"It is bad that we still uses trucks to lift petroleum products from Apapa to other parts of the country. As it is now, other ports in Nigeria must begin to work immediately to decongest gridlock in Lagos.
"Whatever has led to continual use of trucks to lift fuel,  which is, vandalism of pipeline should be addressed immediately. We believe that this will allow the road to become free.  We don't need to continuously use tax payers money to build road that were destroyed by tankers," he said.
Ambode called on the Minister of Petroleum and the Department of Petroleum Resources, DPR to work towards reviving the pipelines.
The governor also said the State did not need tank farms anymore as it already have 68 in Apapa area alone.
"Also, we don't need tank farms within Lagos metropolis anymore. There are 68 tank farms in Apapa alone. That is a serious danger waiting to happen.
"Beyond Apapa, they have approved tank farm in Ijegun axis.  And that is where we have huge population. We need to distribute tank farm establishment to other parts of the state.  This is what we believe should be done at this moment to free Lagos roads," he said.
Ambode, however, commended the Federal Government for shifting the repairs on the Third Mainland Bridge to August 24, 2018.
He said, "We believe that at this time, the clearing of the alternative roads would have been completed.
"We have a transport challenge in Lagos because it is only road transport that is effective in the state."
Copyright Ships & Ports Ltd. Permission to use quotations from this article is granted subject to appropriate credit given to www.shipsandports.com.ng as the source.