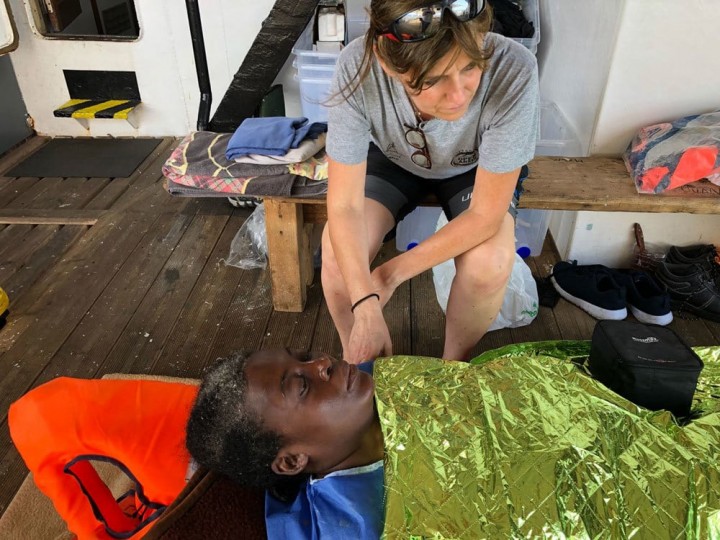 Proactiva Open Arms, a sea rescue charity is seeking permission to take the bodies of two dead migrants to Spain, it said on Wednesday.
The charity is shunning the option of taking a lone survivor to a much closer port in Italy whose interior minister has accused rescue groups of lying.
Proactiva Open Arms recovered the bodies of a woman and a young boy along with one surviving woman in a wrecked boat in the central Mediterranean on Tuesday, accusing the Libyan coast guard of abandoning them and criticizing Italy for shutting its ports to the rescued migrants.
Italy gave the boat permission to dock in Catania, Sicily, and offered to receive the surviving woman, but would not accept the bodies, Proactiva said.
The group rejected that and instead appealed to Spain, whose new Prime Minister, Pedro Sanchez, has made high-profile gestures to welcome migrants since taking power in June.
"It is incomprehensible that they agreed to receive the rescued woman, who is suffering from severe hypothermia, but did not show the same willingness for the two corpses," Proactiva said on Twitter.
The group added that Italian Interior Minister, Matteo Salvini's description of its footage from the area as "lies and insults", and fears for the survivor's wellbeing also prompted the choice to turn to Spain.
Spain's interior ministry was not immediately available for comment. Italy's coast guard did not respond to a phone call.
Libya's coast guard denied having abandoned anyone at sea on Tuesday, but did not explain how the three were left in the wrecked boat.
Open Arms, currently around 75 nautical miles from the coast of Sicily, will face a four-day voyage to a Spanish port if Madrid accepts its request.
Salvini, leader of the far-right League, has refused port to charity ships and is pushing for Libya's coast guard to handle rescues and take migrants back to Libya, where humanitarian groups say they risk torture.
Copyright Ships & Ports Ltd. Permission to use quotations from this article is granted subject to appropriate credit given to www.shipsandports.com.ng as the source.