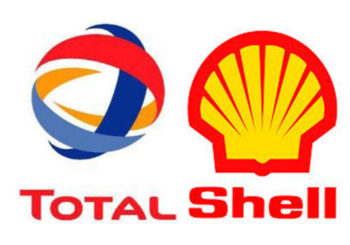 Higher output and soaring crude oil prices helped European majors, Royal Dutch Shell and Total, to begin 2018 on a high note with better than expected first-quarter results on Thursday.
Brent crude oil prices in the first three months of this year averaged around $67 a barrel, leaving last year's $54.5 behind as a distant echo of the price crash of late 2014.
The world's top oil companies are expected to generate more cash in 2018 than at any other time this decade after three years of cuts, but boards remain cautious over near- and long-term price uncertainty.
However, Shell shares slipped 2.7 percent by 1000 GMT as cash flows fell short of investors' strong expectations. Total shares gained 0.7 percent.
With Shell's output up 2 percent at 3.8 million barrels of oil equivalent per day (boe/d) and Total's production rising 5 percent to 2.7 million boe/d in the quarter, both were well positioned to capture the price upswing in benchmark oil prices.
The Organization of the Petroleum Exporting Countries (OPEC), together with other producers led by Russia, started in early 2017 to throttle its output to revive prices and regain market share from U.S. oil producers.
This month, Brent crude oil futures climbed above $74 a barrel, reaching highs last seen in late 2014, a welcome development for oil producers.
Shell reported a 42 percent rise in first-quarter profit, its highest in over three years. Adjusted net income rose to $5.322 billion, topping a company-provided analysts' consensus of $5.277 billion.
Total's net adjusted profit came in at $2.9 billion, beating analysts' forecast of $2.77 billion in the quarter.
Armed with such results, Shell and Total are in payback mood to investors, buying back shares after diluting stakes with scrip dividends – consisting of shares rather than cash – introduced after the price crash which sent oil prices as low as $28 a barrel.
Shell plans to buy back $25 billion of shares by 2020 and Total said it will raise first quarter interim dividend by 3.2 percent, while Scrip shares issued in January for the second 2017 interim dividend were bought back.
Agency Report