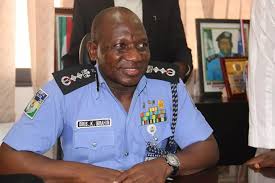 By Lakinbofa Goodluck
"Repeat a lie a thousand times and it becomes the truth" is a quote attributed to one of the most dreaded propagandist that ever lived, Dr. Joseph Goebbels. In the same vein, a consistently repeated aberration is likely to become a celebrated normality if care is not taken.When the qualities that separate a police force from an ordinary civilian organisation are attenuated, law enforcement in such society becomes threatened.
February 2012, Inspector General of Police, Muhammed DahiruAbubakar, ordered for the swift removal of all roadblocks, which he said constituted nuisance on the highway. The media celebrated the order and many people commended the IGP for his foresight and support for free movement. September 2014, the media was awash with the directive from the Inspector-General of Police, Suleiman Abba, who succeeded DahiruAbubakar, ordering the dismantling of all roadblocks in the country. I guess many Nigerians forgot that the same directive was issued about 30months earlier. May 2015, Acting Inspector General of Police, IGP Solomon Arase, ordered the immediate removal of police roadblocks describing them as "public nuisances, points of corruption and source of police-citizens' friction." September 2017, the Inspector General of Police, IGP Ibrahim Idris also ordered the dismantling of all roadblocks nationwide with immediate effect.
I chose to begin my chronological review from 2012 because events that occurred within the space of five years may be easy to recall. Let me start by establishing that the Nigerian Police is a force and that is why it was called Nigeria Police Force before the name was changed. One of the attributes of any force is the respect for ranks and orders. No force that is worth its salt downplays hierarchy and orders. An essential attribute of orders from top command is that many times they are never repeated. If a top force officer has to repeat an order before it is obeyed, then it is no longer a command; it is a mere advice. And advice is what it is; its obeyance is discretionary and subjective. Advice is a common phenomenon among civilians but the force is largely defined by orders and commands.
There is call for concern when a force begins to operate as a civilian entity where the same orders are repeated and celebrated as new. If in five years, four different Inspector-Generals of Police are issuing the same directive on the same issue, then it is a sign of the degeneracy in our police force. It is either the policemen completely disregard the office of the IGP or the police force lacks the adequate mechanism to identify and dispense punishment to erring officers. Whatever the case may be, it is a scary omen for our nation.
The more disturbing part of the current situation is that nothing is likely to change this time. At best, the roadblocks will proceed or a short vacation for two weeks, and return to business as usual until another IGP comes into office and issues the same order. It even appears, the Information and Communication Department already has a template they doctor each time an IGP gives the directive, because the reasons offered for the dismantling are usually the same. The reality is that as much as Nigerians dislike seeing police roadblocks, they have become accustomed to the menace since it appears removing them perpetually is impossible. But why is it difficult for the Nigerian Police to truly dismantle roadblocks? The answer is obviously known to everyone including the police officers. Those roadblocks are like oil blocks. If they are well serviced, they can yield some good financial return; and of course, no one will freely dismantle a lucrative oil block.
The solution to this menace has to be double-edged. The Nigerian Police Service Commission needs to wake up to its responsibility and spearhead the demand for worthy remuneration for our police officers. It is a known fact that the policemen are not well paid. Other conditions of employment are also discouraging. An average police barracks in Nigeria is defined by its unhygienic state, dilapidated buildings and a general state of insalubrity. This is probably responsible for the inability of the force in Nigeria to attract first class graduates as stated by one commentator. In developed countries, prospective candidates are subjected to all manners of examination and scrutiny before they are admitted into the police force, which is why an average officer need not do much to earn citizen's respect. In the same vein, the officers are motivated to do their job without any form unethical gratification.
In addition to worthy remuneration and good working condition for our police officers, the top echelon of the force must institute a mechanism that identifies and punishes erring officers of the force. It is an embarrassment on the force and the Nigerian State that IGPs are issuing the same directive every time they assume office. Please let every order be backed up with the necessary authority it deserves, lest it becomes a suggestion open to application of discretion.
Copyright Ships & Ports Ltd. Permission to use quotations from this article is granted subject to appropriate credit given to www.shipsandports.com.ng as the source.