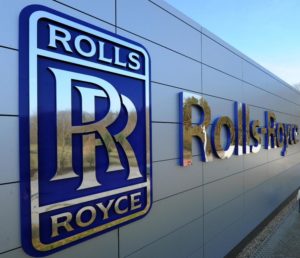 Rolls-Royce warned on Friday it would require more money and more inspections to fix problems with Trent 1000 engines on Boeing 787 Dreamliner planes, leading to further disruption for airlines.
Problems with turbine blades on the engines wearing out sooner than expected have hampered a restructuring program at Rolls prompted by declining older engine programs and plunging demand for oil equipment.
It said the matter would require more regular inspections and lead "to higher than previously guided cash costs being incurred during 2018".
"We sincerely regret the disruption this will cause to our customers," CEO Warren East said in a statement.
Rolls said it would reprioritize spending to mitigate the costs and kept its 2018 free cash flow guidance unchanged at around £450 million ($643 million), give or take £100 million.
Shares in Rolls, one of the biggest names in British manufacturing, were down 1 percent at 1053 GMT.
It announced the need for stepped up inspections after liaising with authorities over a separate issue with the compressor on Trent 1000 Package C series engines.
Rolls said there were 380 such engines in service.
Boeing said about 25 percent of the 787 Dreamliners flying were powered by the engine and it was deploying support teams to mitigate service disruptions.
General Electric engines used on some 787s are not affected.
The need to inspect and repair Trent 1000 engines has led to an industry-wide shortage.
East said Rolls was working with Boeing and airlines to minimize the disruption.
"Our team of technical experts and service engineers is working around the clock to ensure we return them to full service as soon as possible," he said.
A Rolls spokesman added that aviation safety regulators would be issuing guidance to the airlines in the coming days. "We recognize that the application of these actions may cause additional disruption to our airline customers."
Virgin Atlantic said it had up to four 787s grounded at any one time while it sourced replacement engines with Rolls.
Virgin has also leased three Airbus A330-200s to help cover its flying program.
A Virgin spokeswoman said it had been aware of the increased inspections announced on Friday and that the cover it had in place would be sufficient.
British Airways, Japan's ANA, Air New Zealand and Thai Airways, which also use Trent 1000 engines, were not available for immediate comment.
Scoot, a budget carrier owned by Singapore Airlines, said it expected some impact on operations.
In December, the European Aviation Safety Agency (EASA) ordered airlines to replace some Rolls Trent 1000 engines.
In March, Rolls said the cash hit from the problem should hit a peak of £340 million in 2018 before falling in 2019.
Agency Report