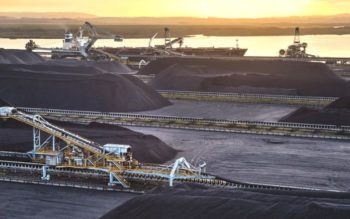 South Africa's Richards Bay Coal Terminal (RBCT) said on Thursday it has boosted productivity and improved turnaround times after a R1.34 billion ($98 million) machinery upgrade.
RBCT, Africa's largest coal export facility, launched the project to replace its ageing machines with the aim of sustaining the terminal's 91 million tonne capacity, but the process has also increased efficiencies, it said.
"We are already enjoying several operational efficiencies of the new machines," RBCT Chief Executive Officer, Alan Waller, said.
The project installed two new rail-mounted stacker re-claimers, which scoop up and transfer coal into and out of the yard and its rail-mounted ship loaders. They in turn transport coal along a conveyer into a ship's hold.
The two new re-claimers are expected to have a capacity of 6,000 tonnes per hour compared to the previous machines' 4,500 tonnes per hour, while the ship-loader will have 10,000 tonnes per hour capacity compared with 8,000 tonnes per hour previously.
The re-claimers have also cut the amount of bulldozing needed after its coal-carrying arm was extended further into the coal yard from 40 metres to 60 metres, RBCT Project General Manager, Bill Murphy, said.
"That means it has a longer reach and there is less bulldozing time. It increases the productivity at RBCT," said Murphy.
The project also reconfigured the terminal's five existing electrical substations and added a new substation.
RBCT said it is well on track to reach its export target of 77 million tonnes this year and has already surpassed the levels it had reached last year this time.
"We are probably 1 million tonnes ahead compared to this time last year," said Waller, without giving specific figures.
The terminal exported a record 76.47 million tonnes of coal in 2017, and aims to export 77 million tonnes this year.
Agency Report