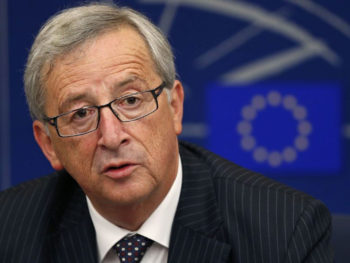 By Jite Eriabie 
European Commission President Jean-Claude Juncker's 13 September call for "investment screening" has raised new concerns in Athens as the country battles to meet the demands of its European creditors through the privatisation of state-owned commercial organisations.
In a wide ranging speech, Juncker said, "If a foreign state-owned company wants to purchase a European harbour, part of our energy infrastructure or a defense technology firm, this should only happen in transparency, with scrutiny and debate. It is a political responsibility to know what is going on in our own backyard so we can protect our collective security if needed."
Given Greece has sold both its major ports, Piraeus and Thessaloniki, as well as part of its electricity network, to foreign firms and is looking for an investor in the Hellenic Vehicle Industry, Juncker's remarks resonate strongly in Greece.
A few days prior, visiting French President Emmanuel Macron, had argued in Athens the Eurozone had been wrong not to pay more attention to which investors Greece had sold its assets in recent years. 
"We should not push Greece to choose non-European investments," he said.
Most obvious concern for the European Union is the growing presence of China in Greece and other parts of Southeastern Europe.
Recently an independent report by the European Bank of Reconstruction and Development (EBRD) authored by economic analyst Jens Bastian, examined the evolving "Balkan Silk Road," which has seen Chinese interest and investment in Greece, Serbia, the Former Yugoslav Republic of Macedonia and Bosnia-Herzegovina increase.
As part of its "One Belt, One Road" initiative to expand China's trade links around the world, Beijing has purchased infrastructure, set up bank branches and provided loans in all of these countries.
In Greece, China's most obvious presence, is through shipping giant Cosco, in the port of Piraeus. But there are others.
Greece's Prime Minister Alexis Tsipras dismisses concerns about Chinese investment in Greece admiring Beijing's approach and clear strategy regarding what it wants to achieve.
Germany is also uncomfortable about China's inroads in that country, after China's Midea's EUR4.5bn ($5bn) takeover of German industrial robotics firm Kuka. Germany wanted to stop it but gave way to "a free market" posture.
Rising apprehension on the part of the EU about Chinese investments centers on fears China's dominance in key industries could lead to protectionist practices in the future, the dominant role of the Chinese state in investments, a lack of transparency, different values and concern that sensitive infrastructure or technology could end up in non-EU hands.
There is also a growing feeling EU investors encounter obstacles in countries like China, that do not exist for those seeking to invest in Europe.
As a result, the EU is now trying to find a way to avoid acting as Juncker termed "naive free traders." His proposal about investment screening was a step in this direction.
Juncker's proposal foresees a European framework being created but for the screening process to be carried out by the member-states. Under this framework, EU members would screen investments on several grounds, including security and reciprocity.
For now, while there are worries about China or other state-led investors gaining a foothold in the EU, for many like Greece, Beijing has proved a vital source of investment when financing from others has dried up.
Bastian points out China has the financial capacity, the risk appetite and a long-term investment strategy in Greece and has established a credible track record vis-a-vis Greek political authorities and the Athens business community.
As Macron said during his visit to Athens at the beginning of September, if Europeans are unable to take the place of non-EU investors this would imply a "lack of faith in Europe."   
Copyright Ships & Ports Ltd. Permission to use quotations from this article is granted subject to appropriate credit given to www.shipsandports.com.ng as the source.