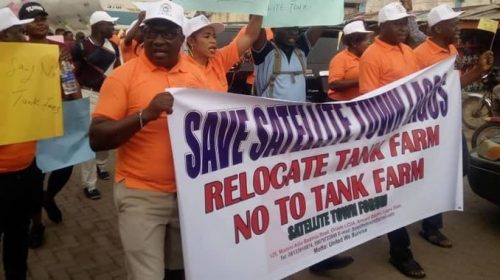 Residents of Ijegun-Egba and satellite communities have called on the Department of Petroleum Resources (DPR), not to issue licenses for new tank farms, noting that the area was already choked up with farms that pose threat to lives and property.
The Chairman, Satellite Town Forum, Governor Imitini, at a town hall meeting with tank farm owners and regulators in Lagos, said in a situation where about 2,000 tankers and trailers are unleashed on the Ijegun-Egba and Satellite Town, a fully built-up residential area with poor and frail infrastructure base, approving more tank farms is totally unacceptable.
He said the correction of the administrative blunder in approving heavy combustible and container investments for locations in Ijegun Egba and Satellite Town cannot be justified by virtue of international best practice.
Already, the Zonal Operations Controller, Lagos, DPR, Wole Akinyosoye, assured that the industry regulator is on top of the situation regarding the safety of the community.
He said DPR has an effective safety activation scheme that carries out periodic drills once in three months to establish a state of readiness and alertness in the event of a fire outbreak.
"So for the issue of safety, we are very confident that we are on top of safety. We are also going to ensure that the depots must involve the community in their safety contingency plan by having safety Marshalls to take out any incident of fire outbreak," he said.
The Chairman, Tank Farm Owners Association, Adebowale Olujimi, said, "We want to make sure that as responsible business people; we are not just doing business, but also ensuring that the community where we operate is safe. We have spent up to N1.5 billion in fixing the road in palliative, drainage and if you look at that axis with 40 million litres of products coming out from that community, and we do not want what is happening in Apapa to happen to Ijegun. It is tough terrain, but at the same time we want to ensure we are not inconveniencing the residents of satellite town and that is why we have been engaging them."
According to him, "We are fixing the alternate roads discussing with the Lagos State government by engaging in a Public-Private Partnership (PPP). We are also trying to build a new fire station. We are also heavy taxpayers to the government even when the government has not been able to do much."
He added that over 2,000 jobs have been created for the youths in the community in the past seven years, which he said is very critical for the Nigerian economy
Copyright Ships & Ports Ltd. Permission to use quotations from this article is granted subject to appropriate credit given to www.shipsandports.com.ng as the source.