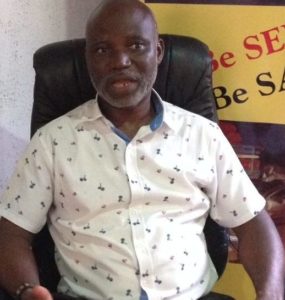 Patrick Adenusi, the coordinator of Safety Beyond Borders, a non-governmental organisation (NGO) is a safety campaigner that has toured Nigeria and several parts of the world preaching safe driving culture. In this interview with FOSTER OBI, he condemned the composition and concentration of tank farms in Apapa; the driving culture of Nigerians that exposes children to danger and the call by some stakeholders for restricting trucks to ply at night, amongst others.
Excerpts:
What constitutes safety challenge in the country?
The Safety challenges in Nigeria ranges from poor maintenance of vehicles, people drinking and driving, smoking, taking drugs and all of that and operating the equipment to excessive speeding and overloading. More than 99 percent of the children we transport in this country are transported in unsafe manner; the parents strap themselves and wear seat belts but the children don't. If there is any accident, they are going to fly out like a ball. So the campaign varies sometimes. The campaign focuses on safe transport of children, schools, communities, roads, churches, mosques; talking to parents on how to safely transport their children.
We have been to several motor parks across the country talking to them to avoid taking alcohol and other substances before they drive; we have campaigned on excessive loading and it has gone on the use of reflective tapes, tyre safety and lately we talked about engine oil because we found out that about 80 percent of the engine oils that are sold to people in this country were made for vehicles of 1993 backward and so our vehicles malfunction. For example, you just take a vehicle and drive it, suddenly it over heats and stops on the road and it now becomes a nuisance to other road users. Someone is thinking the vehicle is poorly maintained, not knowing that the engine oil used contributed to the break down. So the safety campaign cut across the risk strata.
Some people have canvassed that because of incessant obstructions, trucks, especiallycontainer laden trucks, should only ply the roads at night. Do you subscribe to that?
I am personally against that restriction on the ground that it is not safe. The drivers are not that well rested; they do not sleep during the day for them to stay awake to drive at night. So drivers fatigue is going to come in. Secondly the vehicles that are rickety already with poor lighting system cannot drive at night. Thirdly the roads are bad because there are port holes here and there. The trucks having poor lighting will not see the port holes in good time and that is why the record of crashes are high.
Also when any of them get stalled, because they do not have retro-reflective tape to enhance their visibility, a lot of other motorists will crash into them including trucks. There is high risk of being hijacked at night. It is absolutely unsafe to confine truck movement to night. We don't have the facility yet.
But they contribute largely to traffic hold-ups which has multiplier effect on the economy?
They do not cause a lot of traffic during the day, it is rather becauseNigerians do not know how to use the road. It is not the trucking community that constitute nuisance to the use of Nigerian roads. It is a wrong concept and people who come up with such agitation have not really done a proper x-ray of how Nigerian roads are being used.For example, the Lagos-Ibadan expressway is a dual carriage way, two lanes on both sides. If for any reason, a truck wants to make a turn, he slows down on the lane he is on and because he slows down to make a right turn, the traffic behind him slows down. Everyone should slow down and stay on the road, but what happens on our road is that just that one-two minute of slowing down of traffic, you will see smaller vehicles driving on the shoulder of the road to the right and to left.
The two lanes become four lanes, then the struggle starts and so it is not the truck that is constituting nuisance, it is that we are not using the roads the way it should be used and the problem cuts across the motoring public. You see trucks on their lane, another vehicle is overtaking and suddenly you see another vehicle that comes in and squeezes in between the truck and the other vehicle that is ahead of it. The truck driver in a bid not to crash into the one that suddenly forces itself into the front, especially if it is a passenger vehicle carrying lots of human beings; he then swerves and the 99.9 percent chance is that he is going to crash the truck. If the truck crashes, the agency of government that is meant to supervise safety will not investigate the cause of the accident, but comes up to make blanket statement that truck drivers are constituting nuisance to Nigerian roads. Do you want the trucks to go in the air? They are not addressing the issues as they come up.
How do you describe our driving culture?
Our driving culture is sick and so there is need for continuous enlightenment for motorists.  The secret of making impact is continuity.  You don't talk to someone who is not properly trained to drive once in a year. He is not going to hear it. More than 90 percent of people who drive on Nigerian roads have not read the Highway Code. In some parts of the world, the driving manual is on the website. You can download the highway code of several states in America for free. I have suggested that the high way code be put online so people can download it on their phones and read it but they are selling it.
Someone said if you want to hide something from a black man, put it in a book. So we are not reading. It was a good concept the Federal Roads Safety Corps (FRSC) was pioneering the campaign that everyone should go to a driving school, but what if the driving school instructor needs to be instructed? So the system has failed. We need a complete overhaul but I think it is out of place and it is not proper to single out the truck industry as constituting nuisance on Nigerian roads. I talk to truck drivers and I know how tough it is to stir a truck. It is the smaller vehicles that actually make the road unsafe for trucks on Nigerian roads.
Some stakeholders have advocated for transporting of containers by rail rather than road. Do you agree with this?
All over the world trucks operate but the distance they operate differ. For example, it is impossible that all the cargoes in Lagos will go by train to Kano, it will not happen. Though most can go by train, some will have to go by road. Even if we put all our cargoes on the rail, how many days is it going to take because the goods leaving Lagos to Port Harcourt will go to the North first and then to Port Harcourt because of the network.
If there was rail track from Lagos to Benin through Delta into Port Harcourt, then we can say that yes no truck should move goods from Lagos to Port Harcourt. It is not true that all the cargoes in the Western world are moved by train. There are long hauls but there are basic things that are in place, no driver drives beyond four hours; by the fourth hour you must have pulled up somewhere, rested for at least for an hour and their log books are recorded. So a police man can actually stop a truck and just ask for the log book, from the log book he sees the time he left his destination and he already also know the time it will take him to his destination from where he is.
They have rest areas where drivers will pull up and rest, budget hotels where a driver will leave Kano, he will drive and when he gets to Lokoja, he goes to a budget hotel which cost about $30-$40 and at a humble parking space, he parks his truck, takes enough rest and he continues his journey the next morning. They still do long hauls in America; goods are moved both on train and on truck as well. In Nigeria, we can say let us put 80 percent of the goods going to the North coming from the port on the train, the train will not take it from the rail station to the distribution point, they still need to be taken by trucks. So the truck industry investors who are scared about the rail system being functional that they will be out of business, are mistaken. The train will move bulk from Lagos to Abuja, to the train station but they will need to distribute from there. So their trucks will cover less distance and the life is longer.
Some people have called for the relocation of the tank forms from Apapa to the hinterlands, what's your view about this?
I am not an environmental specialist but a safety practitioner and I also have common sense. The tank farms composition and concentration in Apapa is one of the most unsafe conditions we have created in this country. If any of those tank farms ruptures and it goes up in flames, Lagos will cease to exist. Transportation does not end by rail and truck, the pipeline is a form of transportation where the pump from Lagos, for instance transports petroleum products say from depot in Ore, Benin, Ilorin, Mosimi, Ejigbo connects and if we say because of vandalisation we will not do it, when there are security operatives that man them, then we should stop paying them. The tank farms need to be decentralized; the concentration of those tank farms has made Lagos to be the most unsafe place people haveever been in the world.
You have called for motorists to maintain their lane while driving. How will this work when there so much traffic in a place like Lagos and everybody is rushing?
The dynamics of the Nigeria system will change as we begin to maintain our lanes. In Lagos for example, Western Avenue is a two lane road;Ikorodu road is a three lane road on the main carriage way and two lanes on the service lane. It is a five lane road on both sides but anytime there is an infringement, we turn the three lanes on the carriage lane to four-five lanes andbecause of the fact that theshoulder on Ikorodu road is big, people find it difficult to drive on the shoulder but on other roads like Lagos Ibadan expressway, Benin, Shagamu expressway, Agbor, Asaba, Enugu, Onitsha to mention a few; the shoulders are not built, so the slightest traffic; people spill off and multiply the lanes.
When sanity returns to Nigerian roads and we can drive on two lanesas two lanes, one lane as one lane then our journey now functions the way it functions in other parts of the world-like I want to drive to Alausaand I am told it is a 12 minutes' drive and I get there at that time. You cannot use Google map now to measure the time of your driving from anywhere in Nigeria. In the West, you google where you are going or you put it on map quest and it tells you it is a 30 minutes' drive then it is 30 minutes. Just because of the lane indiscipline we are having here, we slow down movement, we don't get to our destination on time, fuel is wasted, it increases the wear and tear of our vehicles and also on our body and pollute the environment.
So you are campaigning for people to maintain their lane?
Yes. The campaign is to maintain your laneand simply put it is using one lane as one lane and two lanes as two lanesetc; not driving against traffic, just bringing sanity back to Nigerian roads. It is maintaining your lane and we strictly recommend that you maintain your lane. The goal is to use the road the way it is designed to be used like in other parts of world, and no unofficial lane must come up. In that way the scratches and dents we have on our vehicles will be reduced and as much as possible, we will have a sane environment.There is nothing impossible and Nigerians are not animals, even animals maintain their track.For me, the government policy on transport is nothing to write home about, they need to go practical.
How did you become a safety campaigner?
My father was a transporter and in 1973 we were coming from Benin to Ondo, yet I saw crashes but there was one that turned my life around and it indoctrinated me to safety if I might use that language.
We were coming back from Benin and when we got to Ofosu, we saw a Peugeot vehicle that crashed into a stationary truck carrying timber and the teeth of the driver was stuck on the log. The brain was scattered on the log and I was like how did this happen? My father gave me an explanation that he could give me and that was how my attention to crashes quietly began. In 1983, I narrowly escaped death in Gbagada area of Lagos. I went to buy a Passat in Ibadan and I was coming back to Lagos and I left Ibadan about 8pm. When I got into Lagos it was dark. I was driving at about 180 kilometres per hour (I was just a youth) and there was this stationary truck on the Oshodi-Apapa expressway on the fast lane which was not visible. I am a Christian, when I see God, I have some questions to ask him and the first one is how I escaped crashing into that truck.
Speeding at 180 kilometres, if I had crashed into that truck, they would not have found the taillight of the vehicle not to talk of my body but here I am speaking to you. And I looked at it that for everything you leave for somebody to do, nobody is going to do it and somebody needs to put his hand on the plough and ensure that something is done.  I saw my father's fleet crash one after the other and so my interest in safety cannot be explained but I can say that the incident I saw in 1973 stirred it up and the campaign on safety has taken me to almost all the states in the country.
Copyright Ships & Ports Ltd. Permission to use quotations from this article is granted subject to appropriate credit given to www.shipsandports.com.ng as the source.