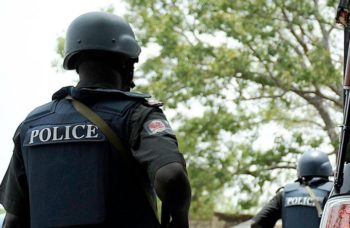 The officer who shot dead a truck driver in Apapa recently has not been brought to justice because he has been recovering from the injuries he sustained in the fracas that ensued after the incident.
The polieman's killing of the truck driver on July 19 led to a rampage by truck drivers and their sympathisers leading to the burning down of two commercial banl branches – Diamond Bank and Sterling Bank – in the area.
The policeman, who was almost lynched by the irate mob managed to escape with injuries. He was howver arrested by by his colleagues serving under the Lagos State Police Command.
In a chat with SHIPS & PORTS DAILY, the State's police spokesman, ASP Olarinde Famous-Cole said the command was set to commence discipliary proceedings against the erring policeman.
"At the time of the incident, the officer was injured and had been treated. He is still in our custody. We are still investigating," Famous-Cole said.
Asked whether the police have reached out to the the family of the deceased truck driver, the image maker said, "We are in communication with everybody involved."
"The incident at Apapa is a sad situation and the Police Commissioner has said the Force does not condone such practice.
"We have the rules guiding the use of firearms. If such officer had taken to those rules, the ugly incident would have been averted," he said.
Copyright 2017 Ships & Ports Ltd. Permission to use quotations from this article is granted subject to appropriate credit given to www.shipsandports.com.ng as the source.