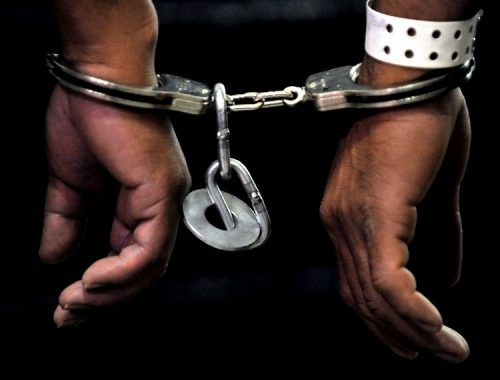 A motorboy and fisherman who planned to leave the country for greener pastures in Europe by illegally boarding a vessel without purchasing ticket at the Lagos Port Complex, Apapa, have narrated their ordeal to SHIPS & PORTS.
The two stowaways, Adewale Omojuwa (25) and Chimezie Obiora (29), successfully boarded the ship named MT Duric Pioneer through the propeller on December 12, 2019. However, luck ran out on them when they were caught by the crew of the ship.
"My name is Chimezie Obiora. I am 29 years old. I hail from Anambra State. I left Anambra State for Lagos State in 2017 when I could not start the business of selling ladies wears due to lack of capital.
"I got a job as a motorboy but I later lost the job as a result of the fracas between truck drivers and Nigerian Ports Authority security personnel.
"In my search for a better life, I got information about boarding a vessel to Europe. I came close to the quayside and I googled the name of the ship. I found out that the ship was heading to Holland.
"I boarded the ship through the propeller and not too long the ship started to sail. While the crew were doing a routine search, they found me and alerted the Nigerian Navy. I was beaten by the Naval officers and detained at the cell. Few days later, I was handed over to Immigration and then to the Nigeria Police who then brought me to the court.
"I have regretted my actions as a result of the unpleasant experiences I have had since I was arrested. I do not see myself attempting to do this again and I want to advise anyone not to try to board a ship illegally. When I leave the prison, I will go and get a good job, make some money and go back to Anambra State," the motorboy narrated.
"My name is Adewale Omojuwa. I am 25 years old. I am a fisherman. I got frustrated with fishing because we don't catch fish like before. I had no option other than to board a ship through its propeller. Although I did not have a knowledge where the ship was heading to, I just wanted to leave the country for Europe where I felt I could have a better life.
"My dream was shattered when I got caught by the crew onboard. They called the Nigerian Navy to come and arrest me. I was beaten and detained for some days after which the Naval personnel handed me over to Immigration and then to Nigeria Police who then arraigned me in court.
"I have had ugly experiences especially in the prison. We were told to park faeces, cut grass, fetch water and we sleep like sardine' fish We could not sleep well. I won't advise anyone to embark on this illegal boarding of a ship," the fisherman said.
An Apapa Magistrate's Court sitting in Lagos on Friday sentence both Obiora and Omajuwa to one week in prison for illegally boarding the vessel without purchasing ticket at the Apapa port.