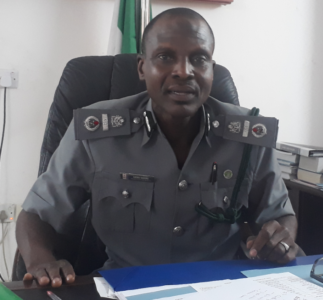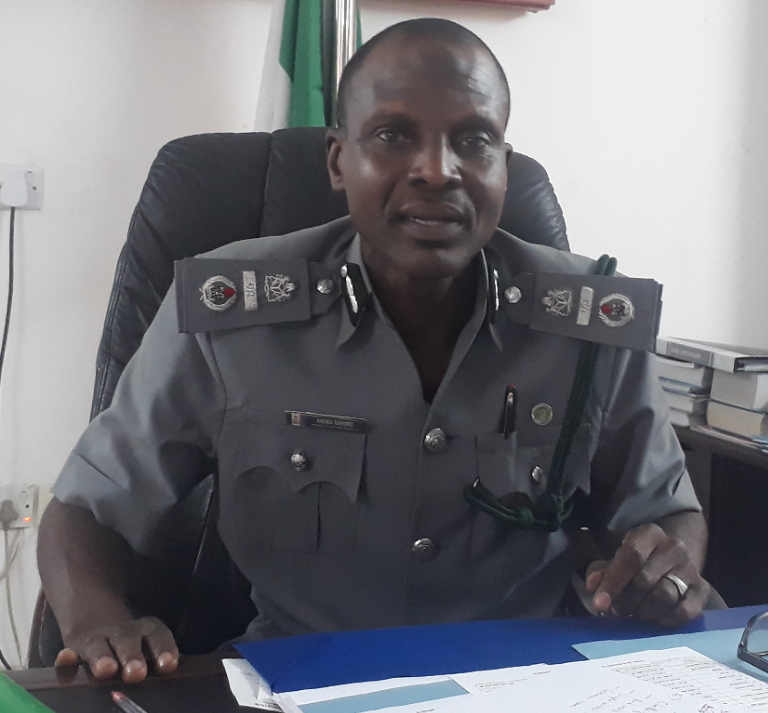 Zonal Coordinator in charge of Zone A, Nigeria Customs Service, Assistant Comptroller General of Customs (ACG) AminuDahiru in this exclusive interview with Shulammite 'Foyeku, identifies lack of functional scanners, poor documentation and the perennial Apapa gridlock as factors impeding quick cargo clearance at the ports. He also stresses the need for clearing agents to improve on their customs documentation to avoid post-clearance hassles.
Excerpts.
Customs Zone A, based in Lagos, is expected to generate 75 percent of the N1.3trillion overall target of the Service for the year. How do you intend to achieve this target?
People say that the Zone accounts for 75 percent but sincerely speaking I think it is more than that. It is close to 80 percent because if you add up all the activities of the other Zones, they are not up to what we produce in Lagos. We have already begun strategizing and I have met with the Area Controllers last week to look at how activities can be improved upon. However, we are still waiting for the take off of business in the zone because the year is just starting. The strategies that yielded result last year are still on and where we notice failure, we will look at it critically and see where we need improvement. In addition to that, we are going to have some slight changes in the posting of officers, and when change occurs, we expect that something positive may likely happen. Although we are yet to release the posting, there are some Area Controllers that may likely be changed. Some will be promoted, while some will be redeployed for other designations and others, I learnt, will be going for course. So by the time we take off, I can assure you that we will perform better this year. The Nigeria Customs Information System (NICIS) platform is also intended to cover all areas and with its positive actions, we expect that it will help us in our collection. I have no doubt in my mind that with our supervision, with the capacity and ability of the officers we have in the field and other innovations, I think the sky is the limit. The seizure of arms and ammunition made last year at the Tin Can Island Port command is also historic because it has never happened before. We believe it is only a stepping stone. We are not going to relax or feel that something has been achieved but continue to do more and improve on our strategies.
What is Customs doing to curb the frequent clashes between officers and suspected smugglers which often times have led to the killing of innocent lives?
Such activities of frequent clashes between officers and smugglers always happen in OgunState because of the many border towns around the area. People from the border always see smuggling as their right because of their proximity to the border. We are trying to avoid all these instances of clashes, and that is why we call on people as well to try as much as possible to pursue legitimate trade which is permitted by law so they can ease our work. When we have prohibition list, it is very limited but because of selfishness of some people, they will always want to engage in smuggling because it brings more money to them within no time, but outside the law. They see us as enemy because we are the agent, which the government specifically assigned to check their excesses. The populace haveto help us too. They should be educated that when somebody runs to them to take cover, let them throw the person back to take responsibility for his action. We should always see this as something that could be avoided if we get the cooperation of people. We will continue to interact with traditional rulers as well as political leaders to make their people understand that smuggling is not the only way to make a living. There are many ways of making legitimate earning without subjecting yourself to many bad things. On our part, we always try to remind our officers of the rules of engagement. Many a times, we allow some goods that should be arrested go to save situations even for our own safety. Sometimes, you can pursue but on getting to a point, you will discover that you have to give up because insistence means invitation to danger. One aspect of our job that is almost ignored but in recent times is being revived is taking our officers for arms training because before we discover that arms handling was never something that we held with much concern but now it is not.
How far have you gone to address complaints about the activities of operatives of the Federal Operations Unit (FOU) intercepting already cleared consignments on the highway?
Since the meeting I had with members of the National Association of Government Approved Freight Forwarders (NAGAFF) in respect of interception by FOU and other issues, I have never received complaint from any agent. I believe there is an understanding, not only between agents and FOU but even between the area commands and FOU. When the pressure is there, it is not for the agents alone to bear but even the area command. No good Area Controller will want a container released from his end and intercepted by another unit in the name of check and balances. As the Zonal Coordinator, I have my responsibility and the Area Controller has his own. In the discharge of my responsibility, it does not mean I will cover an Area Controller who has failed in his duties. I also want to believe there could be improvement in our documentation and procedures as well. When I came in, I tried as much as possible to make it known to all that if we can improve on our documentation, a reasonable percentage of the problem will be solved because all this interception after release sometimes are based on wrong documentation and we get them on information. For example, if an importer uses someone for some nefarious activities and suddenly, he decided to drop him, he could turn against the importer and the information could be passed to an active officer who doesn't play with information and the container will be intercepted. Many a times, we don't even know but with information, sometimes unsolicited, containers are intercepted. We don't do interception blindly unless we have some good grounds to do it. Where we have to caution our officers, we do, but NAGAFF and other associations should equally try to sensitize their members that there is nothing as good as being law abiding. With that, you can sleep with your two eyes closed.
Officers, especially those on patrol, are said to be working under harsh conditions to intercept smuggled goods. The situation is so bad as some of the officers claim they fuel and maintain patrol vehicles from their own pockets. What are you doing to address this?
The truth of the matter is that any Customs officer who complains in that regard is best described as an ingrate. I for one on assumption of office in September received my Authority to Incur Expended (AIE) in October, November and December and I have all the confidence that I will receive that of January before the end of this week. Sincerely speaking, I don't have any course to source for any money to fuel my vehicle. At the same time, I am not trying to say that there may not be some kind of truth in their complaints but what I know is that the Customs Service for the past 25 years has never had it so good like this time around. You can come across an officer who served for the past 27 years and has not enjoyed 28 days (leave) but it was paid in the last moment. I receive my AIE and I am not trying to insinuate that some Area Controllers do not release theirs to the best of my knowledge but I am also calling on them to do the right thing.
What challengesis your zone facing?
The greatest problem that our operation is faced with is the gridlock on the Apapa and Tin Can roads. We release the goods at the right time but you will find that the whole blame will be on Customs because we are like the major player when it comes to release of goods. No matter how quick we want your goods to be release, we can't do anything about the delay caused by the traffic because it is not our responsibility. Second is the issue of documentation. If we could have documentation as it is enshrined in our import and export guidelines, more than 60 percent of our problems are solved. But people are so fond of cutting corners most especially Nigerians. Even when you try to be fair, it will be as if you are coming from another planet because it is almost a general belief that if you are fair, you are stupid because you are expected to cut corners and have your way. As for officers, we are growing everyday in our capacity development. I always see Customs has been ahead when it comes to ICT development. For example, we have the single window platform, which is intended to assist even other agencies, so that we can facilitate trade but many of them refused to key in. All the regulatory agencies including the Standards Organization of Nigeria (SON), National Agency for Food, Drug Administration and Control (NAFDAC), with that window can achieve a lot within a short time but yet, here we are. Thirdly, our scanners are indeed in bad condition and I feel it is not the responsibility of Customs to provide scanners. If scanners are operating properly, clearance procedure will equally be less cumbersome and in no time, you'll have your container released from Customs custody.
Copyright Ships & Ports Ltd. Permission to use quotations from this article is granted subject to appropriate credit given to www.shipsandports.com.ng as the source.