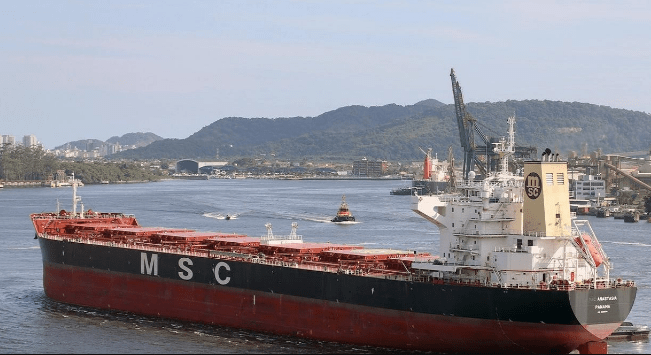 An Indian seafarer onboard the MSC bulker Anastasia, which has been thwarted in crew change plans since June 2020, attempted suicide in desperation over his inability to return home to his family in India.
A protracted trade war between India and China has caused heavy collateral damage, stranding 39 Indian seafarers in Chinese waters for several months, driving one of them to slash his wrist after he was refused permission to return to India to tend to his ailing wife and two sons who have been diagnosed with COVID-19.
The 47-year old seafarer, whose time on board had extended from the contracted five months to 13 months, had been desperately trying right through December to get permission to go to his family's aid, till finally, in despair, he tried to commit suicide. His life was saved in the nick of time by the ship's Navigation Officer.
It has been a horror period for two bulk cargo vessels – the Anastasia, owned by Mediterranean Shipping Company (MSC), and the Jag Anand, owned by India's Great Eastern Shipping Company – which have been at anchorage at Caofeidian and Jingtang ports for 153 days and 206 days respectively as at yesterday.
The vessels have not been allowed to unload their coal cargo, even though vessels flying other flags were permitted to unload similar bulk cargo and leave.
"The ships were refused permission by the Chinese authorities to offload their cargo, and were not even allowed to send other sailors to relieve the crew," said Priyanka Chaturvedi, a Rajya Sabha member belonging to the Shiv Sena, which heads the three-party coalition ruling Maharashtra State in Western India.
"The 39 sailors have been left to their fate without much support from the central government, and their families are struggling to get them back. The families of the sailors, many of whom are based in Maharashtra, have been running from pillar to post with no help in sight."
The arrival of these ships at ports in Northern China coincided with an escalating altercation between China and Australia, leading to a ban on coal imports from the latter country, ostensibly to contain the spread of COVID-19. However, vessels from Russia, Canada and Europe have been permitted to offload their coal cargo.
"Those on the Anastasia and Jag Anand have not set foot on land for months – up to 18 months for the former, and 20 months for the latter," said marine labour consultant Gajanan Tandale. "This is worse than jail. Even those in prison for life are given parole holidays, and are also allowed into hospital on medical grounds."
Apart from the seafarer who slashed his wrist, there have been tragedies galore on board the Anastasia. A crew member from Goa lost his mother. The vessel's captain, Erasmo Alvares, lost his father-in-law to COVID-19. Another crew member, Ashwin Tandale, missed the birth of his daughter.
MSC has been pushing hard for a crew change since June this year on the 92,216dwt Anastasia, managed by MSC Ship Management, but has been thwarted first by changes in regulation, and later, refusal by charterers to allow for a deviation. The most recent attempt at crew change was in December 2020.
"MSC has repeatedly requested during the ship's voyage that the seafarers onboard should be relieved to return home to their families," a company spokesperson said. "These proposals have not yet been implemented by the chartering parties which determine the ship's movements."