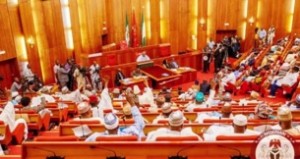 The Senate on Tuesday said it will investigate the alleged unlawful misappropriation of $4 billion by the Nigerian National Petroleum Corporation (NNPC) and the Nigerian Petroleum Development Company Ltd (NPDC) since 2013.
This followed a motion moved by the Chairman, Senate Committee on Federal Capital Territory (FCT), Sen. Dino Melaye at the plenary on Tuesday.
Melaye alleged that the diversion of oil revenue between the two agencies of government had continued unabated since 2013.
According to him, the NDPC has continued to lift crude oil from divested oil wells OML 61, 62, and 63, worth over $3.5 billion without remittance to the Federation Account.
He also said the NDPC had continued to lift crude oil from divested oil wells OML 65, 111 and 119 to the tune of $ 1.85 billion out of which only $100 million had been remitted.
"While this practice may have started before the present administration, it has continued under the watch of the new administration without abating.
"In 2016 alone, between January and August, a total of $344.442 million worth of oil was lifted by NPDC without remittance to federation account and also not paying royalties and other taxes on lifting," Melaye added.
The lawmaker expressed concern that such amount of money could be diverted at a time when the country was facing severe economic challenges.
Supporting the motion, the Leader of the Senate, Ali Ndume, commended Melaye for making such important information available to the Senate.
He wondered how such level of corruption could go on in a country currently facing recession.
Ndume urged the Senate to carry out a thorough investigation into the allegation with a view to unraveling the level of corruption in the sector.
He said, "I support the motion. I want to emphasise that whenever the Senate receives something like this, we should know the seriousness we need to attach to it.
"You can imagine what $3.5 billion will do to the economy in the face of recession."
On his part, Sen. Mao Ohuabunwa (PDP- Abia North), said the allegation, if found to be true, was an infringement on the 1999 Constitution as amended.
He added that those involved should be made to immediately pay the money into the consolidated revenue account.
The lawmaker called on members of the joint committee to suspend their Christmas vacation in order to conclude findings and report back to the Senate in January 2017.
The Vice-Chairman, Senate Committee on Communication, Sen. Solomon Adeola, said the revelation was a wake-up call for the Senate to use its powers to unravel irregularities in the oil and gas sector.