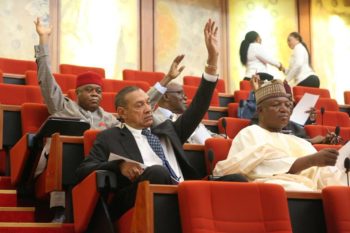 The Senate Committee on Customs, Excise and Tariff, has commenced investigation into over N4trillion revenue leakage in the Nigeria Customs Service (NCS) between 2006 and 2016. Chairman of the committee, Sen. Hope Uzodinma, disclosed this while speaking with newsmen in Abuja on Sunday.
Uzodinma vowed that his committee would stop at nothing in recovering the money. Preliminary investigation by the committee, he said, revealed that the N4trillion leakage was as a result of various forms of infractions including abuse and non-implementation of Form M (foreign exchange form).
He noted that other factors that may have been responsible for the leakage could have been wrong classification of cargo under harmonized system codes, non-screening of cargoes coming into the country and lack of adequate ICT infrastructure for revenue collection.
Uzodinma said that cancellation of pre-arrival assessment reports, abandonment of single goods declaration may also have been responsible for the leakage.
He said, "The Senate Committee on Customs has condemned the inability of the technical committee on the implementation of comprehensive import supervision scheme to ensure that the provisions of the Act are followed to the letter.
"The committee frowns at the quantum of revenue losses and it will stop at nothing in ensuring that those involved in this ugly act would return all recoverable monies with them.
"The committee also frowns at the level of collusion and corruption within the Customs Service.
"At the end of our current investigation, all these will become a thing of the past and customs revenue will be enhanced and non-oil revenue will be improved upon.
"What we are investigating is not money spent. It is the leakages.
"For instance, I am supposed to pay XYZ amount of duty, I will abandon the documentation, go get fake documents, collude with customs, pay maybe a fraction of it and carry my goods. With that, the true import circle is not closed.
"Another instance is that assessment is abandoned, or I fill the form M for example with a pro forma invoice, apply for foreign exchange in Central Bank, XYZ amount of money is allocated to me, money moves in but  no goods shipped.
"I will then go get fake documents, collude with customs and then retire the allocation."
The committee chairman noted that this sharp practices, which also include round tripping and false declarations, had over time led to increase in the exchange rate. He said that it was also observed that in most cases, the amount of money spent was not commensurate with the volume of goods imported. According to him, his committee had started investigating activities of companies and banks indicted in the matter.
He said, "We will not mention the companies involved because we are also very careful of the integrity and public perception of some of these companies, being that some of them are in the Stock Market.
"We will be diplomatic in carrying out this investigation. This is to the extent that little or no damage will be done to the integrity and image of such companies provided that government revenues in their hands will be recovered."
He assured that investigation into the over N4 trillion leakage would be brought to a logical conclusion because it had to do with the economy and revenue loss.
He further added that, "I am sure that the executive arm of government will be willing and interested to ensure that the monies that are littered here and there are recovered.
"If they can pay up to five per cent to whistle blowers to recover money, it means in this case where no money is required or whistleblower required, they will be interested to do justice."
On the committee's investigation into non-repatriation of proceeds from oil and non-oil products by Joint Venture companies, he said report on the investigation had been concluded.
On the retrospective policy on payment of customs duties on old vehicles, Uzodinma noted that NCS overstepped its bounds by making policies rather than implementing them. The power to make policy for the service, he said, was vested in the Ministry of Finance.
He said, "Having gone through the legislations and books available to my office as it has to do with the administration of the customs service, it only implements policies made by the Ministry of Finance.
"So, it sounds very strange to hear that Customs gets up and says they are making a policy.
"That is what I am yet to understand and there is no way to fathom that before the law.
"The referral is already before us. I was waiting for him to appear before the senate before we commence a full blown investigation into some of those issues that have been referred to us.
"Concerning the suspended policy on payment of customs duties on old vehicles, the committee will continue to interface with the service to ensure that the policy is cancelled not suspended.
"The whole idea is about governance and governance is about the people and nobody is licenced or entitled to talk about the people more than the elected representatives.
"So in my view there is no hullaballoo. We will discuss with them and wise reasoning will prevail," he said.
Copyright Ships & Ports Ltd. Permission to use quotations from this article is granted subject to appropriate credit given to www.shipsandports.com.ng as the source.