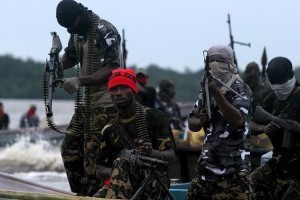 A bill seeking death penalty for anybody that caused death during sea piracy scaled second reading in the Senate on Wednesday.
The bill sponsored by Senator Nelson Effiong, (Akwa Ibom South) also proposed life imprisonment if death was not recorded during sea piracy.
The document was titled: "A Bill for an act to make special provisions for suppression of sea piracy and to provide for punishment for the offence of sea piracy and for matters connected therewith."
Effiong in his lead debate described sea pirates as distinct and sophisticated criminals who are fully armed and whose despicable activities are carried out on those traveling on sea routes.
He described sea routes as popular and cheaper trade routes.
Effiong added that Nigeria, being an import dependent economy must do more to guarantee the safe arrival of goods at her shores.
He underscored the urgent need to put in place law that will discourage and suppress sea piracy and punish those engaging in it.