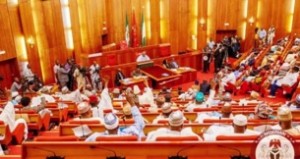 The chairman Senate Committee on Privatization, Senator Ben Murray Bruce has described the Build, Operate and Transfer (BOT) Concession Agreement between Bi-Courtney Limited (BCL), the Federal Government of Nigeria and the Federal Airports Authority of Nigeria (FAAN) as a disaster, wondering how a party could sign an agreement without the intention of honouring the said agreement.
For that reason, Senator Murray Bruce who informed that the Minister of Aviation, Senator Hadi Sirika will be summoned to give his own side of the agreement vowed that his committee would not allow the government to continue with the proposed plan of concessioning the four viable airports in the country which include, Lagos, Abuja, Kano and Port Harcourt without solving the issue at hand.
Senator Murray-Bruce  was speaking  during a tour of the Murtala Mohammed Airport 2 (MMA2), Lagos, for an oversight function yesterday.
He said, "We will not allow the concession process to continue unless they solve this problem. You will not tell me that you want to privatise four more airports while the one you concessioned is a disaster. We will fix this one properly so that we get a success story before we continue with the others. We will not spend tax payers' money on businesses that can be run by the private sector while Nigerians are dying of hunger."
According to the Senate Committee Chairman, to concession or privatise, one has to negotiate and sign an agreement which is binding to everybody involved.
He said if any party signs an agreement which that party does not intend to honour, there are consequences for such parties, adding that such attitude frightens people who would otherwise want to get involved in the concession process or any negotiation with the government.
The Senator said that because of the concession already on ground and the readiness of the private sector to fix the industry, the Aviation Ministry will have zero budgets during budgeting while such funds garnered from there can be ploughed into other areas such as education, health care and even the North East where the children are dying of hunger.
Wondering why one party cannot keep to its agreement, Murray-Bruce queried, "Here is the problem. You concession these facilities; haven concessioned these facilities, you have a binding agreement which is binding legally. But you do not intend to honour any aspect of the agreement. That is what is fundamentally at stake. Why would you concession an airport and then come to government to ask for money or collect money from the public to fund another facility when you have a private sector individual funding it by themselves. This is the fundamental issue which makes no sense in law or in logic. So we are here today to listen to this side of the agreement; we will summon the Minister of Aviation, Senator Hadi Sirika to the National Assembly to present his side of the agreement. I know the minister may not know what is happening but I am not in any way, criticizing the minister. The minister will come to explain what is happening and correct the problem."
We pay for your stories! Do you have a story for Ships & Ports? Email us at [email protected] or call 0810 359 4873. You can also WhatsApp us here. We pay for videos too.

 

Copyright Ships & Ports Ltd. Permission to use quotations from this article is granted subject to appropriate credit given to www.shipsandports.com.ng as the source.