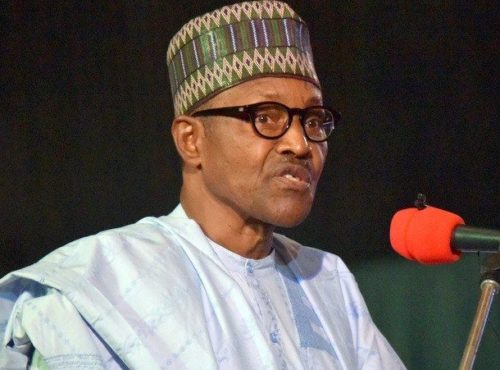 The Chairman, Shipping Association of Nigeria (SAN), Mr. Val Usifoh, has urged President Muhammadu Buhari to focus more on addressing the challenges of maritime security and infrastructure deficit in his second term to make Nigerian ports more attractive.
Usifoh made the call while speaking with SHIPS & PORTS DAILY on the outcome of the February 23 Presidential elections.
INEC Chairman, Mahmood Yakubu had declared Buhari, candidate of the All Progressives Congress (APC) winner of the presidential election after he polled 15,191,847 votes to defeat his closest rival, Atiku Abubakar of the Peoples Democratic Party (PDP), who polled 11,255,978 votes.
According to Usifoh, not much was achieved in the port sector in the past four years as the port city of Apapa suffered massive decay due to neglect with several businesses shuttin down.
He urged the government to take proactive steps in completing abandoned road projects and tackling incessant pirate attacks on vessels. This, he said will help attract foreign investment and boost indigenous operators' ability to play their part in developing the economy.
"Take infrastructure, the road network for instance. That Tin Can road is a priority. But even the one that they have done after two years, not much was done. We need to get the economy moving because very little attention was given to the port.
"The agencies are doing their best but when there is no attraction for foreign investment, this is what we get. Whatever happens in the port affects Apapa, not only the residential areas but all the businesses in Apapa have left and this is not good.
"As far as ship owners are concerned, there are so many actors on the chain of maritime security but very little is happening. Every week, we hear incidence of piracy and that is a disincentive to attracting vessels into the country particularly in the Niger Delta region.
"Before the President will be sworn into office (for second term), there should be agenda of what the government wants to do to fast track and get the economy moving.
"They talk about corruption, while emphasis on security is on the north east and Boko Haram, the seaside, which is a major bread winner… so much money is being spent but not in the right place.
"So, I don't think the government in the past has paid enough attention to the bread winners of the economy, particularly the maritime sector. Indigenous operators have been crying even before they came and throughout the last four years, they did not get anything.
"So, let's hope that the next four years, something good will happen. But one should worry too that the financial base of the economy is not there. So they have to work harder to attract foreign direct investment into the sector," the SAN Chairman said.