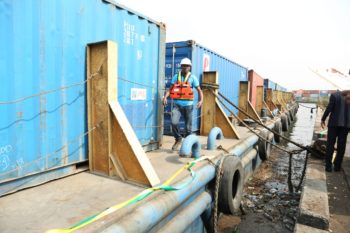 Fresh facts have emerged as to why a barge scheduled to deliver containers of export items from Ikorodu Lighter Terminal to the Lagos Port Complex (LPC) Apapa has failed to arrive to discharge its cargo.
SHIPS & PORTS DAILY reported on Monday that the barge, conveying its first export cargo of manganese had not arrived the Lagos Port Complex, Apapa, ten days after it reportedly sailed from Ikorodu Lighter Terminal. The journey from Ikorodu to Apapa, both in Lagos, by barge is usually not more that six hours.
However, checks by SHIPS & PORTS DAILY at the offices of Nigerian Ports Authority (NPA) in Marina, Lagos and at the Lagos Port Complex Apapa yesterday revealed that the barge did not leave Ikorodu until Friday last week when it finally obtained clearance from NPA to sail.
Chief Executive Officer of Connect Rail Services Limited (CRSL) – operator of the barge – Edeme Kelikume, did not explain reasons for the delays in the operation of the barge.
A source in the office of the Managing Director of NPA, however disclosed that letter authorizing the discharge of the barge was transmitted to the Port Manager of LPC Apapa only on Thursday last week.
"The Port Manager's office in Apapa is expected to convey the approval to the relevant terminal by weekend to allow the barge in.
"Hopefully by today (Monday), the barge should berth and discharge," the source, who spoke on condition of anonymity because he was not authorized to speak on the matter, said.
However, President of the Nigerian Importers Integrity Association (NIIA), Godwin Onyekazi, blamed the barging company for overlooking the aspect of proper documentation with NPA before embarking on a ceremonial flag-off ceremony.
"All documentations should have been done before flag off. I support the idea of barging to take pressure off the congested roads. I hope the barge operators have learnt their lessons and will correct all mistakes in the future," Onyekazi said.
The Managing Director of Nigerian Ports Authority (NPA), Hadiza Bala-Usman had on February 8, flagged off the barge operation.
At the highly publicised flag off ceremony, Usman said the movement of the solid mineral would bring "huge economic advantage" to the country and that using barges to ferry containers of solid mineral across the waters to Apapa ports would take pressure off the roads.