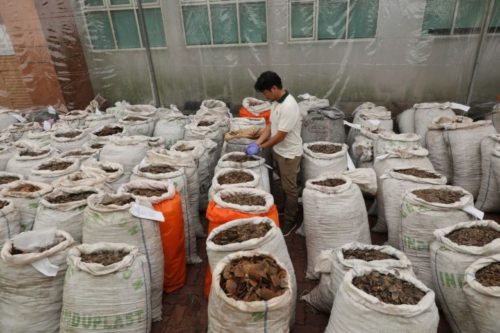 The Singapore Customs has intercepted and seized 12.9 tonnes of pangolin scales worth $38 million smuggled from Nigeria.
The pangolin scales, discovered in a shipping container from Nigeria en route to Vietnam, was intercepted by eagle eyed Customs officials at the Pasir Panjang Export Inspection Station in Singapore.
The seizure, made on Wednesday in a joint operation by the Singapore Customs and the National Parks Board, is the biggest seizure of its kind globally in five years, estimated to have come from 17,000 pangolins.
"The shipment was declared to contain frozen beef and was on the way from Nigeria to Vietnam," Singapore Customs and the National Parks Board said on Thursday.
Pangolins, also known as scaly anteaters, are critically endangered. They are coveted for their meat — considered a delicacy — and scales used in traditional Chinese medicine to treat ailments from cancer to arthritis.
About 100,000 pangolins are poached from the wild each year, with all eight species in Africa, and especially Asia, now under threat, according to conservation group WildAid.
Hong Kong Customs had in February intercepted a record HK$62 million, ($7.90 million) worth of pangolin scales and ivory tusks also originating from Nigeria in a shipping container destined for Vietnam.
Source: Reuters