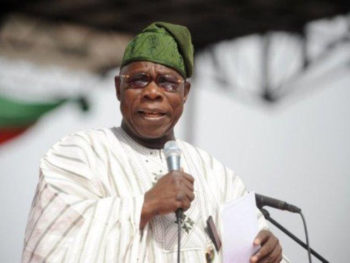 By Ace Omozuwa
Former President OlusegunObasanjo attests to the fact that the pen is mightier than the sword. His missives and press releases often have vatic elements. They have the capacity to awaken the slumbering leadership class. On Tuesday last week, he decided to let the public know his opinion about the ostensible reelection bid of President Buhari and the state of the nation.  He did not paint a rosy picture. His voice of caution may help Nigeria greatly, if it is objectively appraised. But if politicized it will avert no pending danger.
To buttress the fact that lives are endangered when truth is ignored by men in power, John F. MacArthur in his book The Vanishing Consciencetells the tragic story of the crash of Avianca Boeing 747, HK-2910X, which occurred in Spainon Sunday, November 27th, 1983. The cause of the accident is shocking.  Minute before the crash, the automatic warning system announced many times; "Pull up! Pull up!""Pull up! Pull up!" The pilot ignored the warning. He thought the computer-synthesized automatic warning system was faulty. He shouted, "Shut up, gringo!" Then, he turned off the system. Shortly, thereafter, the plane crashed.
Lives are ruined when leaders act as enemies of the truth. Sadly, we live in a society that conditions people to ignore truth, extol tribal norms beyond reason. As a result, even some highly educated people do not evince cosmopolitan ideals; rather, their public utterances and conducts are guided by nihilistic sentiments.  This in part explains why the miasma of hate speeches has vitiated the soul of Nigeria. I presume only a miracle will stop Obasanjo's statesmanlike intervention not to fling open the floodgates of subjectivism, irrationalism, and deliberate misinformation.
At present, the deluge of misinformation in the public square has the capacity to demean our collective consciousness. Traffickers of false news give the impression that their ultimate goal is to put in place a system of disremembering, and, deaden social affection. Every day they promote hatred for difference by caricaturing the defining essence of others. Sadly, the well-meaning efforts of government to proscribe hate speeches seem not to be bearing the needed fruits. Perhaps, this is because, the spirit of nihilism is widespread in our nation.  This is well underscored by the subtext of Obasanjo's pungent intervention.
Simply explained, nihilism is the belief that nothing is meaningful. It is a doctrine of meaninglessness and worthlessness of human life and values. At another level, it is a denunciation of objective truth. It says there is no objective foundation for truth, and shared morality. It is also anti authority.  It essentially seeks the annihilation of constituted authority in order to rebuild a just society. Its view of authority is very jaundiced and pessimistic. It sees them as "fantastically corrupt."
It is important to state that nihilism is multifaceted. It finds expression in all facets of human life in the private and public space. Worrisomely, nihilistic sentiments are becoming prevalent as many are questioning the reality, the ontic authenticity of Nigeria, and promoting insidious ethnic revivalism.  This erroneouspsychotic beliefthat is held in the face of evidence to thecontrary is eroding the foundation of our national ideals. It is tattering identity markers of Nigerians.  Also, it is making people embrace ethno-religious provincialism, or what Obasanjo calls "friendship and kinship." This may have informed the statement attributed to Prof. Umar Labdo Muhammad, Faculty of Humanities, Northwest University, Kano. He reportedly notes"that Benue State belongs to the Fulani by right of conquest." Furthermore, he reportedly said, "the state is part of the Bauchi Emirate and the other half is part of the Adamawa Emirate. Benue is therefore part and parcel of the Sokoto Caliphate. So no one has the right to expel the Fulani from Benue under any guise." This is an attempt to dodge the issue that barbaric killings are evil.
Most socioeconomic and political tensions in Nigeria have the ideological tinges of nihilism. The driving forces behind the conflicts are void of constructive and regenerative capabilities.  More worrisome, they have polluted and drugged the populace and the political class into stupefaction. Hence, as a nation we have not put on our thinking cap. The conversations around thorny national issues are as muddled as the soliloquy of sleep-talker.  Some of the intelligent conversations are marred by ethno-religious sentiments. When the political class is disinclined to high-impact proactive actions, but caters for the primitive sentiments of a lawlessly pugnacious minority, then, it might be safe to say we are regressing from the ideals of enlightenment and capacitating nihilistic citizens. Perhaps, Obansajo's proposed Coalition Nigeria (CN) could address some of these issues, and reverse the trend.
A nation is sinking to the abyss of nothingness, when it starts turning its strength into vulnerability, when the ideals of unity in diversity are ridiculed by phony ethno-religious supremacists. Peaceful and prosperous coexistence of all tongues and tribes will be impossible to achieve when some part of the nation is seen as a subjugated territory.
I do not think Prof. Umar Labdo Muhammad appreciate the fact that a nation starts sinking to the abyss of nothingness when it stops extoling transcultural ideals and the humane principles of socioeconomic engagements. In the age of globalization, parochialismis a recipe for national disintegration. It is not and cannot become a drive of development. Anything that divides us could destroy us. To paraphrase Obasanjo, togetherness is central to national wholeness.
A nation sinks to the abyss of nothingness when miscreants are knighted.  Today, many who parade themselves as knights of truth and justice are simply fanning the flames of primitive malevolence. They weaken the conscience of society by consistently subjecting it to unethical exposure to violence, and unwholesome images. Our national conscience is so weakened that right and wrong, good and bad have become relative. Tribalism has made moral relativism a norm. An example or two will make this point clearer. In the eye of a Yoruba person stealing from public fund is not an act of corruption, if it is perpetuated by a Yoruba man. But it is, if it is perpetuated by anyone from another tribe.  Similarly, in the eye of some Fulanis senseless killings of non-Fulani by Fulani herdsmen are not a crime.
A nation is sinking to the void of soul-destroying misery when prudence does not superintend the expenditure of public funds.  In 2015, following the approval of the National Economic Council,  the Central Bank of Nigeria (CBN) disbursedN100bnto some states to build cattle ranches. Sadly, up till now there is nothing to show that the fund was judiciously utilized. Even without looking at a crystal ball anyone can predict the outcome of any investigation into the matter. The reports will gather dust in files.  It is worth reiterating, a nation sinks to the abyss of nothingness when people can evade the consequence of financial malfeasance.
A nation that does not entrench the culture of openness and accountability cannot attain great lofty heights.  Freedom and justice are easily endangered anywhere the business of government is shrouded in mystery. Men of conscience should not be the primary pivot of accountability. Rather, responsive and ethical public institutions should be.  A culture of accountability transcends the character of individuals; it is about collective adherence to the norms of transparency, which makes the rule of man near-impossible.
Let us face the fact: Nigeria is gliding downward. To reverse this downward trajectory, government agencies like the National Orientation Agency (NOA) should creatively engage the citizenry. This should be done with the aim of mobilizing people to start propagating the centrality of transcultural ideals to the flourishing of pluralistic societies. In the same way, security agencies must beef up their intelligence gathering mechanism.
It is also needful for the political class to jettison provincialism in its entirety. The gains of sectionalism cannot be compared to that of nationalism, or that of globalism.   It is nonsensical for our men of power to stand on international soapbox, pontificate, denounce social injustice, and criminal acts of violence in faraway lands, and docilely seek to prevent the occurrences of instability-inducing socio-political havocs here in our beloved nation. Charity begins at home.
Teachers also have roles to play in this regard. In fact, they can make Nigeria to soar to lofty heights in very field of human endeavors.  They should mold the minds of children to respect difference.  In fact, beyond teachers, we all should teach children not to become burden to society, liability to posterity, and tribe-blindfolded agents of social chaos. Nigeria will be a greater, stronger, a more united nation if we start learning about social ethics, and stop gloating in triumphal narratives that turn us against each other.  To make Nigeria great we all should endeavor to be lovers of truth, even when it hurts us, we should not take refuge in "alternative facts."
Copyright Ships & Ports Ltd. Permission to use quotations from this article is granted subject to appropriate credit given to www.shipsandports.com.ng as the source.