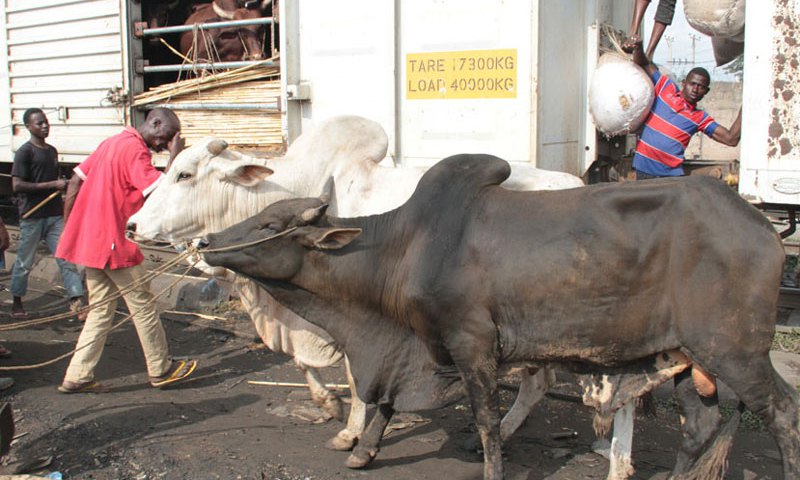 The Federal Government has suspended transportation of cattle from the northern part of the country to Lagos.
The Nigeria Incentive-Based Risk Sharing System for Agricultural Lending (NIRSAL), which initiated the scheme, confirmed that the cattle movement by rail has been suspended. The Gusau train station from where the cattles were transported to Lagos by rail in September 2016 is empty and deserted.
Coordinator Research & Strategy of NIRSAL, Bello Abdullahi Abba confirmed the suspension.
"Yes it is true that the historic movement of cattle from the northern to the southern part of the country launched last year has been temporarily suspended due to some technical issues which are being worked on.
"While that process is going on, we are proceeding with another aspect of the farm to market scheme – transportation of grains from the north to the ports in the south for export," he said.
Chairman of the Cattle Dealers Association of Nigeria (CADAN), Zamfara State branch, Alhaji Aminu Garba Gusau attributed the stoppage of to "selfishness and insincerity" of stakeholders and organizers of the programme.
He said, "We met with various stakeholders in Zaria, Abuja and Lagos. We were asked to gather cows for conveyance to Lagos and after we had done that the train didn't show up. We lost our capitals to feeding and taking care of the animals.
"We gathered the animals ready for transportation but were disappointed because the train never came back again. We wrote to the Director Operations of the Nigeria Railway in Zaria up till now there is no positive response.
"Later we were asked to increase the transportation fares for each coach by the consultant of the programme. We had earlier paid N90,000 for each coach carrying about 30 cows. We agreed to pay N105,000 for each coach but the train hasn't returned again.
"They are not sincere about the programme they launched it to achieve a selfish agenda and after that has been done they felt they have nothing to do with us again. We are calling on the president to look into the matter since this government is determined to diversify the economy," Gusau said.
In September last year, the Federal Government through NIRSAL flagged off cattle transportation by rail in Gusau, Zamfara State.
A train carrying 500 cows in its 15 wagons left Gusau for Lagos shortly after the flag off of the scheme, which was greeted with fanfare. Less than six months after, it has ran into a ditch.
Copyright Ships & Ports Ltd. Permission to use quotations from this article is granted subject to appropriate credit given to www.shipsandports.com.ng as the source.