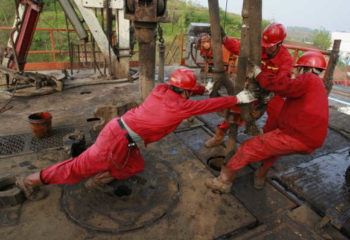 South Korea's SK Incheon Petrochem has said it would continue boosting purchases of light crude oil from Nigeria, to replace Iranian condensate.
This is said to be due to rising prices for Iranian condensate is an ultra-light form of crude.
SK Incheon Petrochem, fully owned by SK Innovation, said in a statement on Tuesday that it would bring in a combined 3 million barrels of light crude oil for April arrival as an alternative to supplies of Iranian condensate.
Since the fourth quarter of last year, SK Incheon Petrochem has cut its monthly Iranian condensate imports by nearly half to 1.1 million barrels and increased imports of light crude oil from sources such as Russia, Kazakhstan and Nigeria, the company said in the statement.
"We will increase our light crude imports for the time being in response to increasing prices for Iranian oil," the firm said.
Iran raised the official selling price (OSP) for Iranian Light crude for May loading for its Asian buyers to $1.30 a barrel above the average of Oman and Dubai quotes, 10 cents higher than April.
South Korea's imports of Iranian condensate in the first three months of this year dropped to about 40 percent to 3.45 million tonnes, or 280,736 barrels per day (bpd), over the same period a year ago, according to data from the country's customs office.
In a sign that the country is diversifying its sources of oil, South Korean refiner, Hyundai Oilbank, this year made its first purchase of Norwegian condensate.
SK Incheon Petrochem runs a 100,000-bpd condensate splitter that produces naphtha, a feedstock to make plastics and other petrochemical products.
Parent company SK Innovation has a total refining capacity of 1.115 million bpd, including a combined 840,000 bpd at five crude distillation units (CDU) in the south-eastern city of Ulsan and 275,000 bpd at two CDUs in the north-western city of Incheon.
Agency Report