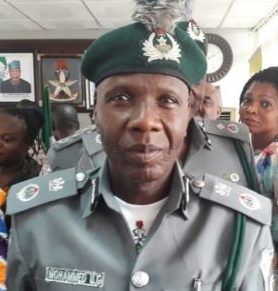 Controller, Federal Operations Unit, Zone 'A' of the Nigeria Customs Service, Comptroller Mohammed Uba on Thursday said ignorance on the part of residents of border communities who see smuggling as legitimate business is one of the challenges faced by the unit in its effort to curtail illegal border trades and other forms of smuggling.
Uba stated this when he received members of the Shipping Correspondent Association of Nigeria (SCAN) who paid him a courtesy visit in Ikeja, Lagos on Thursday.
He said lack of knowledge is the reason why people living in the border communities see Customs officials as enemies and sometimes attack them while carrying out their legitimate duties. 
He however noted that the challenge will not deter the unit from performing its statutory responsibility of suppressing smuggling.
While making reference to section 147 of the Customs and Excise Management Act (CEMA), Uba said the law empowers Customs to search any warehouse where there is reasonable suspicion that prohibited goods are kept there.
He called on the media to support NCS in the fight against smuggling by educating and enlightening the public on its dangers.
He said, "Customs is a constituted authority by the government but to our surprise, the whole community will just come and be attacking us. Because we collect tax, people see us as enemies.
"It is the media and some individuals who understand that smuggling is dangerous. So we must continue to educate ourselves and that is why we are soliciting the support of the media to educate people that smuggling is injurious to the economy.
"I have also been talking to my colleagues at the borders by advising them on Customs community relation activity. We advise them and they set up such communities and advise them on what to do.
"Smuggling is a war not only for Customs but all of us. For example, look at the issue of rice. What is the point bringing in rice when we can locally produce this rice or bring them through the port? These are some of the issues we are facing but that will not deter us from doing our work."