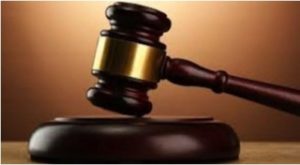 A former military officer, Akinyemi Olorunshola will know his fate on February 28 after the adoption of written address yesterday at Apapa Magistrate's Court, Lagos.
The 38-year-old officer was arraigned for allegedly defrauding a serving military officer over a car that was said to have been smuggled into the country.
Olorunshola was accused by the police of having collected money from a fellow soldier to procure a Lexus Jeep from Cotonou but failed to deliver the vehicle as was agreed by both parties.
The ex-military officer said Sergeant Odeiga gave him the sum of N1,150,000 to buy a Lexus Jeep from Cotonou. However, the car was seized by Customs because duty was not paid on it.
Meanwhile, the receipt for the purchase of the car and the certificate of title were tendered before the Court without any objection from the prosecutor.