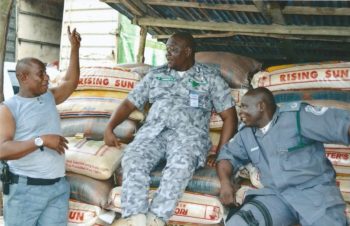 The Rice Millers Association of Nigeria (RIMAN) has called on the Nigeria Customs Service (NCS) to establish an intelligence department within the agency in order to effectively gather information aimed at tackling smuggling in the country.
The Association's Chairman Peter Dama, who made the call during the inaugural meeting of RIMAN in Kano expressed concern over how some Customs officials handle tip-offs on smuggling activities.
"We commend the Customs for working very hard to fight smuggling in the country. However, my only concern is how some Customs officials when given tip-offs or other information on smugglers would ask you to take them to the location where the illegal activities are taking place.
"This is dangerous because if the smugglers identify the person that leaks their secret, they could harm that person. I think to avoid this danger, the Customs can set up an intelligence unit that can help them indentify locations where smuggling activities are taking place," he added.
Dama also lamented that smugglers are harming public health by importing 10 to 15 years old rice that was treated with dangerous chemicals that may cause terminal illnesses including liver cancer and kidney ailments.
Earlier in his address, Muhammad Shehu Adamu, a director at the Federal Ministry of Agriculture, explained that Nigeria has recorded the rice production capacity of 15 million metric tons annually, saving the country about N300 billion which used to be spent on rice importation.
Adamu said in Kano alone, about 1.2 million metric tons of rice was grown successfully in 2016, adding that Nigeria has no reason to continue importing 'poisonous' rice from abroad.
The director, who also revealed the country's plan to begin rice exports to West African countries in the next two years, also said "about 34 states in Nigeria are producing rice, with many now producing three times in a year".
Also in his remarks, the Deputy Comptroller of Customs on Enforcement, Kano/Jigawa Area Command, Agbo A. Hyacinth disclosed that officers had seized more than 800,000 bags of smuggled rice in less than a year.
Hyacinth also said that importation of rice has become difficult in the last two years because of the inability of rice importers to source foreign exchange.
"You can't source forex to import rice now and this is why you can hardly see a ship conveying rice in our ports. This is a very big achievement. If you want to import machinery, we can help you do it by easing the process," he said.