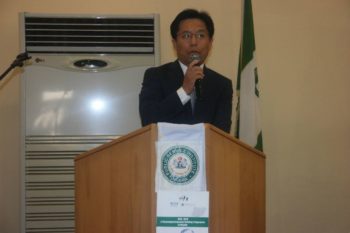 The Republic of Korea on Thursday reiterated its commitment to assist Nigeria to accelerate implementation of the Economic Recovery and Growth Plan (ERGP) and to significantly grow the economy.
The ERGP launched in March, is a medium-term plan for 2017 to 2020, broadly targeting restoration of growth, human development and globally competitive economy, in efforts to combat current economic crisis and achieve sustained diversification and inclusiveness.
Ambassador of the Republic of Korea to Nigeria, Noh Kyu-duk, stated this in Abuja at the first Anniversary of Korea International Cooperation Agency Alumni also known as South Korean International Cooperation Association in Nigeria.
He pledged to assist state governments who are keen to attract Korean investors to boost local economies and provide more employment opportunities in Nigeria.
The envoy said that KOICA had recorded significant achievements in the country's relations with Nigeria, stressing that the role of the agency had strengthened further the relationship between the two countries.
"Trade between our nations peaked in 2014, reaching $4.4bn and in spite of global economic uncertainty, trade between the two nations has remained important.
"More Koreans are travelling to the most remote regions of Nigeria to provide assistance. Korean companies are delivering services, building schools, and opening centres to help local people.
"Korean professors and experts are sharing their experiences and expertise to strengthen the capacity of Nigerian government officials in fields such as health, education, vocational training, and agriculture," he said.
According to him these efforts and interactions have in no small measure contributed to Nigeria's economic development through the role of Official Development Assistance in Nigeria
He said that Nigeria's ambition to return to a robust economy could be accelerated with the help of development assistance.
"As a friend of Nigeria I can assure you that the Republic of Korea always avails itself to assist in the same way the international community once provided to Korea after the Korean war," he said.
The KOICA Country Director for Nigeria, Park Hyun, said that Korean had been providing Nigeria with ODA since 1991, mostly in the form of project Aid focusing on education and human resource development.
Hyun said that KOICA had supported Nigeria to develop its first e-Governance Master Plan and in building the capacity of public institutions and officials in e-Governance practices.
The ambassador also pledged to strengthen the relations between Nigeria and his country, adding that the trade relationship between the two countries had remained strong in spite of the global economic crisis.