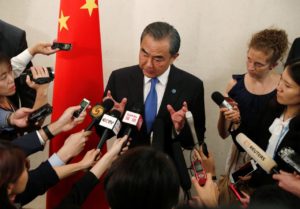 Southeast Asia and China have agreed on a working text to continue long, drawn-out negotiations over a code of conduct in the disputed South China sea, with officials from both sides on Thursday hailing it as a "milestone".
A number of the members of the Association of Southeast Asian Nations (ASEAN) and China have overlapping claims to islands in the sea, one of the world's busiest waterways. For years they have been discussing a pact to prevent an escalation of disputes.
"I am pleased to announce yet another milestone in the COC (code of conduct) process," said the Foreign Minister of Singapore, Vivian Balakrishnan, who is hosting the meeting of regional leaders and lawmakers from around the world in the city-state.
He said the "single draft COC negotiating text", agreed at high-level talks in June but only announced on Thursday, would serve as the basis for negotiations.
His Chinese counterpart, Wang Yi, called the working text "good news" and "great progress".
Critics say the consensus approach to negotiations on the code could mean a final deal is still years off and works in China's favour as a delaying tactic to ease scrutiny of its militarization of man-made islands in the region.
Also on the agenda for ASEAN members over the next few days is reaching a cybersecurity deal with Russia, which the United States has accused of election meddling, according to a draft of a communique seen by Reuters set to be released on Saturday.
The document shows ASEAN will also reiterate its commitment to wrap up a major trade pact backed by China, against the backdrop of protectionist trade policies from the United States, and urge steps towards denuclearization of the Korean peninsula.
Singapore suffered its worst cyberattack earlier this year, when hackers stole the personal information of about 1.5 million people, including Prime Minister, Lee Hsien Loong, from a government health database.
Malaysia also said in March it had foiled a cyber heist of its central bank.
Neither country has identified the hackers and neither suggested the involvement of Russia, which last year appointed a dedicated ambassador to ASEAN based in Jakarta, the Indonesian capital.
Agency Report