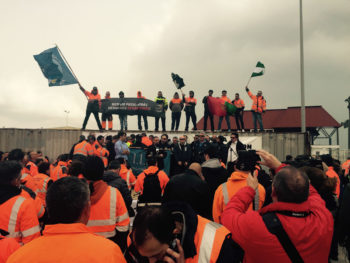 The planned strikes of Spanish dockworkers scheduled for today March 10, March 13 and March 15 have been postponed, in yet another attempt of the country's stevedores to reach a deal on the port reform model.
The move follows the government's announcement on delaying voting on the port reform for another week along with a meeting of unions, Coordinadora, UGT, CCOO, CIG and CGT, with employers association ANESCO.
However, the call for strikes scheduled for the 17, 20, 22 and 24 of March remain in place.
The bill amending the Ports Act of 2010 was scheduled to be debated and voted on in plenary session in congress on Thursday, as announced by the Minister of Public Works, Inigo de la Serna, but, the matter has been pushed until Thursday next week in order for the opposition groups to submit their opinion.
Separately, Anesco has promised to facilitate the continuity of the current fixed employment of workers. Nevertheless, it has been stressed that the government's presence at the negotiating table is key to resolving the issue at hand.
The international dockworkers and transport unions have also suspended their industrial action planned in support of their Spanish colleagues.
"Following discussions with our respective members, our three organisations have decided to temporarily suspend the announced day of action. The Spanish unions are making another attempt to see if they can succeed with negotiations and political influence, and we fully respect this decision. Our actions are meant to support them and we are obviously ready to rework our solidarity plans to meet the needs of their revised strategy," said ETF Dockers' Section Chair Terje Samuelsen.
The three organisations, the European Transport Workers' Federation (ETF), the International Transport Workers' Federation (ITF) and the International Dockworkers Council (IDC), have engaged in a series of actions to support the struggle of the Spanish dockers. Among these, an action day was planned for the 10 March 2017, to coincide with the strike called by the Spanish unions on the same day.
Jordi Aragunde, IDC General Coordinator added that the organizations are "certainly not dropping our guard".
"Our aim is to support them gaining the right to a fair reform of port labour. They are not opposing the reform, but some of the terms set by the government are not acceptable: we are convinced port labour can be reformed without the need for huge job losses and replacing stable employment with precarious jobs."
Two weeks ago, the Spanish Government unilaterally presented a Royal Decree on the reform, disregarding the result of previous negotiations between social partners, compromising the jobs of over 6,000 dockworkers.
Copyright Ships & Ports Ltd. Permission to use quotations from this article is granted subject to appropriate credit given to www.shipsandports.com.ng as the source.