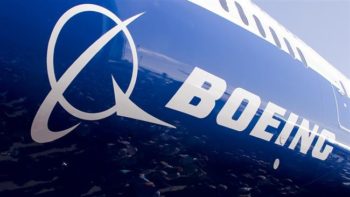 One of Nigeria's leading aviation infrastructure firms, Springfountain, and aircraft manufacturers, the Boeing Company USA, have signed a strategic agreement that would lead to a $20bn investment in the Nigerian aviation industry within the next few years.
The agreement was signed on Monday in Lagos by  Tokunbor Fagbemi, Managing Director, Springfountain and Larry Tolliver, Head of Sales, West and Central Africa, the Boeing Company.
Speaking at the ceremony, Fagbemi said the proposed investment would be carried out through the African Aircraft Leasing Company, OEM Maintenance, Repair and Overhaul Centre, African Aircraft Spare Parts Company and Aggregated Services Solutions.
Fagbemi said it would cover aircraft leasing, maintenance, repair and overhaul, spares logistics and supply, as well as aggregated services solutions.
She noted that the absence of such facilities and services in Africa were some of the major challenges faced by the Nigerian airlines and the aviation sector.
Fagbemi said, "We, as dynamic Nigerians and as patriotic citizens of this great nation have made Nigeria our first port of call to situate, subject to provision of all the necessary enabling environment, free of the risk of expropriation.
"We believe that through this venture, we would have added our quota to ensure that Nigeria does not lose out, as African aviation is gathering momentum and countries within Africa are repositioning, developing culture, business, economy etc, around aviation and increased intra-continental air connectivity.''
According to her, the facilities and services will require the local skills in diverse fields ranging from piloting, aviation engineering, aviation economics and aviation law, thereby creating employment opportunities for Nigerians.
She, however, appealed to the Nigerian government to make travel affordable and convenient for the Nigerian masses, noting that the country only had 15 million domestic and foreign travellers, out of a population of 180 million.
"We want to work with government and the aviation industry to bring brand new aircraft which hopefully will bring down the cost of operations for operators and bring down the cost of airfare for passengers in Africa.
"We, therefore, call on government to facilitate the implementation of the Yamoussoukro Declaration (YD) and the African Union Declaration 2063,'' Fagbemi said.
She also urged the government to create an enabling environment for the projects to take off by way of policies and waivers, as well as investment in aviation education, skill building and skill development.
Also speaking, Tolliver said the partnership was aimed at improving Boeing's services to its clients, adding that Springfountain had demonstrated sufficient commitment towards making it a success.
On his part, Sen. Hadi Sirika, Minister of State, Aviation, congratulated Springfountain on the attainment of the strategic relationship with Boeing.
Sirika, represented by Capt. Sidi Abdullahi, Director of Operations, Nigerian Civil Aviation Authority, said the partnership was expected to bring in innovative solutions that would assist in solving major issues bedevilling the Nigerian aviation industry.
"With the commitment of Boeing in Nigeria and the right quality of Nigerian human resources, there will be job creation and wealth retention in Nigeria,'' he said.
Similarly, the Chairman of Air Peace, Allen Onyema, said the establishment of the MRO facility would help domestic airlines save up to $500m annually.
"This is what we have been yearning for in Nigeria and I am calling on the government to ensure that this dream becomes a reality by supporting this partnership,'' he added.