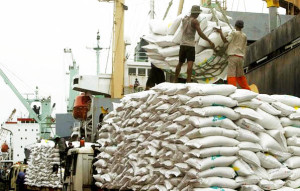 Agricultural stakeholders in Ebonyi have called for caution on the State Government's planned ban of the sales of imported rice in its markets and other sales' outlets.
Governor David Umahi of Ebonyi recently announced the ban on the sales of foreign rice in the state though remarking that the implementation was yet to commence.
Umahi said that he would personally lead a State Executive Council task force to carry out the order while sellers of the produce would provide certification of its quality.
Also, the Minister of Agriculture, Chief Audu Ogbeh, during a recent visit to the state in company with the Central Bank Governor,  Godwin Emefiele, had commended Umahi for the decision.
Ogbeh said then that the Ebonyi Government had shown enough commitment by ensuring massive production of rice and promised to assist the state with agricultural equipment such as : rice harvesters, threshers and par- boiling drums.
However, a rice dealer, Basil Ekeleme, in Ebonyi Local Government Area, said that such a ban would be effective when there had been massive local-rice production.
"The state government and other stakeholders have ensured that rice farmers cultivated large quantities but the government must wait till after harvest to ascertain the level of bounty produce before making sensitive pronouncements. "Rice farmers were confronted with challenges such as rice pest-gaulmidge attack, unavailability of rice seedlings, processing challenges among others,'' he said.
Also, Francis Ibe-Enwo, an Agronomy expert said that the Federal Government ought to have first made the pronouncement while the Ebonyi Government should have followed it up.
"The Federal Government only removed rice from the list of items that it would provide foreign exchange (forex) for its procurement and this does not imply ban of any sort. "The Ebonyi Government should realise that much funds were invested in importing the produce and many dealers and sellers depend on its sales for survival," he said.
Similarly,  Anita Mgbo, a rice farmer, said that the sales of foreign rice would automatically fizzle out when there is an influx of locally-produced rice in the markets.
"When the rice massively cultivated this farming season floods the market, its low prices will make consumers shift attention from foreign rice consumption. "It will automatically affect its importation and sales.
"The government should instead of the ban, provide irrigation facilities to rice growers to ensure dry season farming and ensure that processing, distribution, packaging and marketing challenges confronting rice farmers are checked," she said.