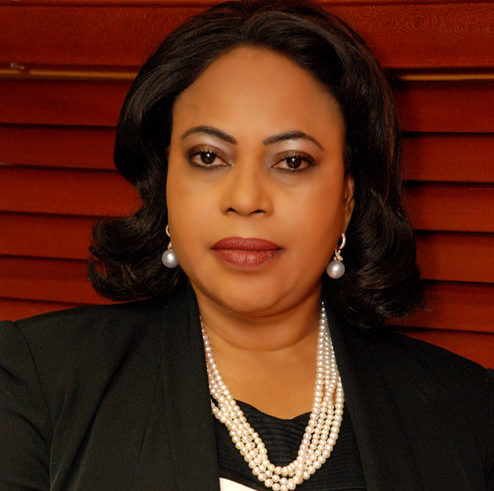 The Chairman, Seaport Terminal Operators Association of Nigeria (STOAN), Princess Vicky Haastrup, has extolled the virtues of former Minister of Transportation, Rotimi Amaechi, saying that the top politician "left indelible marks in Nigeria's maritime industry".
Amaechi served as Nigeria's Minister of Transportation from November 2015 to May 28, 2019. He has been re-appointed as a Minister by President Muhammadu Buhari but has not, along with 42 others, been assigned a portfolio yet.
Haastrup, who spoke at a reception organised in honour of the former Minister recently, said Amaechi "is the type of leader we need to propel the economic advancement of our beloved country".
She said, "We are all aware of the intractable security challenges on our waterways. Piracy and other maritime crimes on Nigerian waters, which have lingered for more than a decade, appear to have defied every solution until the coming on board of the present government.
"After analyzing and identifying the problems, the Federal Ministry of Transportation under Rt. Hon. Rotimi Amaechi prepared a memo to the Federal Executive Council outlining ways of solving the problem. This eventually gave birth to contracting an Israeli security firm to provide relevant platforms and also train officers of the Nigerian Navy and other relevant security agencies on the handling of these equipment and tackling criminalities on our waters.
"I believe that once the equipment and platforms are deployed and the trainings are completed, insecurity will become a thing of the past on our waters."
Haastrup also commended Amaechi's passion in the reactivation of rail transportation in Nigeria.
"His passion for reviving our otherwise moribund rail system shows he is a rare visionary leader. The advantages of rail transportation to our environment cannot be overemphasized. Rail transportation is much faster and more reliable as it is least affected by weather conditions and traffic congestion. It is also cost effective as it can carry a large number of people and larger cargo volumes over long distances.
"By reviving the rail transportation system, Rt. Hon. Rotimi Amaechi is helping travellers overcome security challenges on the roads and affording them the opportunity to travel cheaper and in more comfort. He is also helping to take pressure off the roads, as much of the goods discharged from the ports will begin to be evacuated through the railway.
"Railways are also an important source of employment all over the world. So it is our hope that more Nigerians will find gainful employment in the railway sector as the project nears completion," she said.
The STOAN Chairman also said that the setting up of a committee to champion the setting up of a new private sector-driven national shipping carrier by Amaechi while in office is commendable, as it will help Nigerians participate in the affreightment of the country's import and export cargoes.
"When this happens, it will inevitably improve Nigeria's standing in the committee of maritime nations, create more jobs for our teeming youths and conserve much needed foreign exchange for the country," she said.
She added that Amaechi has added significant values to the maritime industry and the larger transportation sector in Nigeria.