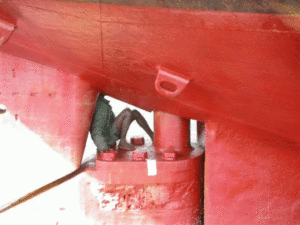 Crime rate at the seaports in Lagos have reduced drastically due to low level of activities occasioned by low volume of importation, a senior police source in the Western Port Police Command has told SHIPS & PORTS DAILY.
He however said the ports have witnessed more cases of stowaways in recent times.
The police source, who pleaded anonymity, as he was not authorised to speak with the media, explained that compulsory charging of suspects to court without option of bail and other measures put in place by the police, including constant police presence at the terminals, training of its personnel had helped to discourage crime at the Lagos ports.
"Obviously, the economic recession is affecting activities in the port and this can be linked to some government policies. The port is no longer as busy as before, as the economy is really biting hard on the populace. And I think this is why crime has reduced in the port, but recently, few persons have been caught as stowaways on vessel," he said.
The officer identified some challenges faced in the port as bad access road and poor lighting at night.
"The patrol team moving around the ports has also helped to reduce crime. The calibre of police personnel in the port are officers who know their onions and whoever is arrested is charged to court without any form of cutting corners. Such attitude has deterred port users from engaging in any form of crime.
"The re-training of police officers have also contributed to better service delivery because they now have the orientation that they are public servants so they have to be respectful and be courteous when talking to members of the public," he noted.
He further added that there has been a good synergy with other security agencies especially the Nigeria Customs Service.
"The fight against crime is a collaborative effort. No one can do it alone," he said.