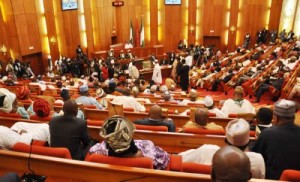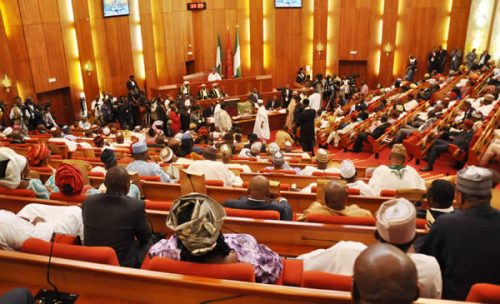 The Senate said it had concluded arrangements to probe the Nigerian National Petroleum Corporation (NNPC) and Independent Marketers over alleged irregularities in the subsidy fund.
Chairman, Senate Committee on Petroleum Downstream, Sen. Kabiru Marafa, said this on Sunday while briefing newsmen in Abuja.
According to Marafa, the NNPC has failed to justify to satisfaction the near N5.2 trillion spent on subsidy importation of petroleum products from 2006 to 2016.
"This sum is in addition to the 445,000 barrels of crude oil for domestic consumption. This is more than the annual budget of Nigeria," he said.
"We note allegations already brought to our attention concerning the importation of Automotive Gas Oil (AGO) under various import contracts wherein hundreds of millions of litres of AGO have been imported and allocated to choice marketers at discounted values," he said.
The Chairman added that the committee had also established the disappearance of 100 million litres of Premium Motor Spirit (PMC) worth N14 billion kept in the custody of two companies.
He said the committee would invite NNPC past and present executives, Heads of Operations and Planning and Desk Management Officers responsible for purchasing of products sold to Nigeria.
"It is pertinent to stress that where invitees failed to cooperate with us, then adequate sanctions shall be carried out ranging from publishing of names of industry news providers.
"Where relevant reward and incentives will be available to support the courage of members of the public who come forward," he said.
Marafa said that the committee would also implement its own Whistle Blower platform to enable it get information on corrupt practices.
He said that the committee would conduct a three-day public hearing on the matter.Also speaking, Chairman, Senate Committee on Upstream, Sen. Tayo Alasoadura, said it was very important that the License Inspection Agency also appeared before the committee.
"This is because they were hired by the Federal Government to ensure that Nigeria was not cheated in any way on items imported into the country.
"If we had introduced little efficiency, we will not be having these irregularities," he said.
He said that everybody involved should be ready to give account of what had been put in his care.
"People who have been taking this country for granted will be brought to book," he said.
Similarly, Chairman, Senate Committee on Gas Resources, Sen. Albert Bassey, said that the investigation would be very exhaustive.
"We understand the failure of past investigations. We assure Nigerians that we are working to protect the collective interest of all Nigerians.
"We are not out to witch-hunt anybody but to hold people accountable," he said.
Copyright Ships & Ports Ltd. Permission to use quotations from this article is granted subject to appropriate credit given to www.shipsandports.com.ng as the source.