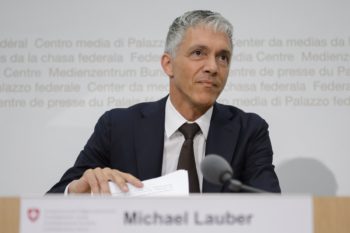 The Office of the Attorney General of Switzerland (OAG) on Friday said it took on 237 new criminal investigations last year, 25 percent more than in 2016.
Attorney General, Michael Lauber, at a press conference, said his office was also working on 307 requests for mutual assistance from abroad, after getting nearly 200 new requests in 2017, many for help on complex, cross-border cases involving bribery, money laundering and potential extremism.
While he said his 234-person staff is "nearing its limits" with the present caseload, Lauber encouraged other countries to reach out to Switzerland for assistance as he seeks to undo Switzerland's reputation as a place to hide illicit money in the country's famed banks – and return it to its rightful owners.
Lauber's 40-page report on Friday included details about high-profile cases lawyers were investigating, including more than 100 criminal cases relating to Brazilian oil company Petrobras. So far, that includes one criminal case against a bank in Switzerland.
"It's possible there will be more. We're doing this diligently because we know that the people involved, as well as the Swiss financial institutions, have good lawyers and we don't want to be beaten on a technicality," Lauber said.
Of SFr1 billion ($1.03 billion) frozen by authorities in the Petrobras case, Switzerland has returned SFr200 million so far to Brazil, but Lauber said that amount will grow.
"You can be sure of one thing, we don't want to keep the money, if it does not belong to the Swiss or the government," he said.
Swiss authorities are also assisting prosecutors in Italy in Nigerian cases involving Royal Dutch Shell, which has filed a criminal complaint against a former senior employee over suspected bribes in the $390 million sale of an oilfield in the African country.
At the end of 2017, the Attorney General said his lawyers were handling 478 ongoing criminal investigations.
Agency Report