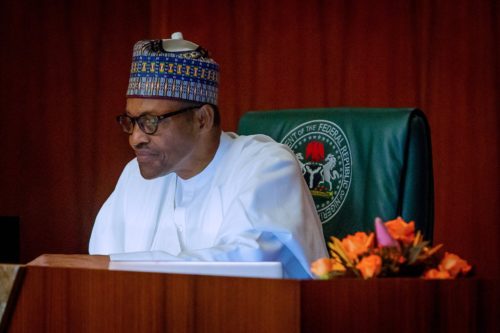 Once again, the nation is being kept in suspense as it awaits the constitution of the Federal Executive Council (FEC) that will help President Muhamadu Buhari run the affairs of the nation for the next four years. Already, nearly two months is gone out of the four years they are expected to work to deliver good life and democratic dividends to the people.
It was the same waiting game in 2015, during Buhari's first tenure. The nation waited for so long, and before one could realize it, six months had gone. While the waiting lasted, Buhari ran the country all alone, like a sole administrator. The consequence of the late and tardy take off of the government is all there for everyone to see.
Unfortunately, the same scenario is playing out once again. The nation is being kept on edge, waiting to see President Buhari's cabinet. During the first tenure, the nation showed understanding because the then President-elect came with a pedigree and a reputation of hating and fighting corruption. It was, therefore, agreed that he had to take his time to select members of his cabinet – people of impeccable integrity, untainted with corruption. However, at the end of the long wait, Nigerians still saw ministers and aides that were far from being above board. In fact, one of the last cabinet members said recently that he knew some people who came to the cabinet as poor people, but are now billionaires.
One cannot understand why choosing cabinet members has always been a big problem in Nigeria, especially for President Buhari. Elsewhere, even African countries, this kind of problem does not exist. A shining example is the present South African President, Cyril Ramophosa who formed his well-balanced cabinet barely a week after inauguration. Even some countries would have the cabinet on ground before the swearing in of the president. One then asks: Why should Nigeria's case be always different? What really do our president-elects do within the period before the swearing in ceremony?
Notably, the Nigerian Constitution has provided a guide on how the president can choose his cabinet. This is not an abstract exercise he is expected to perform. He is not to do random sampling to get the right people. Section 147 of the 1999 Constitution provides a guide, especially Section 147 (3) which stipulates that "the composition of the Government of the Federation or any of its agencies and the conduct of its affairs shall be carried out in such a manner as to reflect the federal character of Nigeria and the need to promote national unity, and also to command national loyalty, thereby ensuring that there shall be no predominance of persons from a few State or from a few ethnic or other sectional groups in that Government or in any of its agencies."
In other words, the Constitution prescribes that the president must pay attention to issues around ethnicity, religion and other considerations that will promote national cohesion. These are the considerations that should bother President Buhari. In doing this, however, he can also borrow a leaf from his South African counterpart, Ramophosa, who chose his cabinet with the following criteria: experience, continuity, competence, generational mix, demographic and regional diversity.
Unfortunately, the issues delaying the appointments of the cabinet members are far from being national interest. They border on politics, personal, ethnic, party and other mundane interests. Party, ethnic and selfish interests are being elevated above national and collective interests. We say, enough of all this politics and horse-trading. All the picking and dropping, oppositions, and agitations should stop. The President and the APC government should not continue to hold the nation to ransom by making appointments into the federal cabinet a tug of war.
President Buhari should remember his promise some months ago during a media chat. He had said that those who call him "Baba Go Slow" would be surprised at his swiftness in his second term. The nation holds him to his words, and expects nothing less. Nigerian citizens have suffered enough deprivation, poverty in the midst of plenty, insecurity of lives and property and general poor standard of living. We expect that the President should move fast to give Nigerians a new lease of life.
In order to do this, he must select honest, knowledgeable, committed and altruistic people. They should not necessarily be career politicians, but technocrats, experts and professionals. Above all, generational mix should be considered, so as to eliminate people who are analogue while the world has moved to the digital stage. Those that will make up the new cabinet should be people who can leverage on ICT to carry out their responsibilities – those who can send and reply emails, do researches on the internet, leverage on various software and apps to drive the machinery of government, and not depend wholly on a long retinue of special assistants for every piece of information or to get any work done.
The President should know that after another long wait, the nation expects to see competent, experienced and incorruptible people in the cabinet; not people who would throw parties in celebration of their appointments and go ahead to feather their nests and those of their friends, kits and kin. The nation would not like a repeat of what happened in the first tenure where so-called President's men themselves got mired in the cesspool of corruption, leading to petitions and stringent calls for their removal, thereby casting aspersions on the President and his anti-corruption campaign.
Suffice it to say, however, that the President has said he would no longer appoint strangers into his cabinet. During his maiden meeting with the leadership of the National Assembly at the new Banquet Hall of the Presidential Villa recently, President Buhari explained how some persons he didn't know found their way into his last cabinet, having been pushed in there by individuals and his party. He spoke of his resolve not to toe the same path this time around. He declared that only tested and capable hands he is sure would deliver on assigned mandates will make the ministerial list.
We commend the President for this resolve. We expect also that he will give consideration to other recommendations in order to ensure that, this time around, Nigerians will heave a sigh of relief. But the time to do this should not be unduly long. In fact, let the waiting end.
Copyright Ships & Ports Ltd. Permission to use quotations from this article is granted subject to appropriate credit given to www.shipsandports.com.ng as the source.