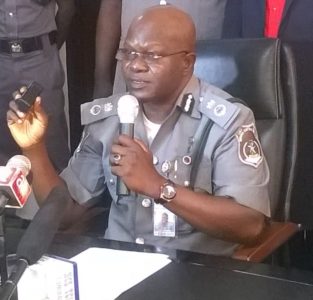 The Tin Can Island Command of the Nigeria Customs Service (NCS) says it generated N262.3 billion revenue between January and November.
The Public Relations Officer for the command, Uche Ejesieme,made this known in a statement in Lagos on Friday.
He quoted the Area Controller of the Command, Yusuf Bashar, as having made the disclosure while receiving the delegation of the Federation Accounts Allocation Committee (FAAC), Post-Mortem Sub-Committee.
Ejesieme said the 2017 revenue generated by the Command surpassed that of N233.5 billion it generated in 2016.
The Controller said the visit was appropriate, considering the fact that the nation was gradually sliding out of recession and the need to sustain the tempo.
Bashar said that the Command had also made significant and steady progress in its core functions in the past 18 months.
He said the various reforms he instituted shortly after assumption of duty include the construction of a training facility with 30 workstations for the training of the officers and other critical stakeholders.
Bashar said that that the command had started reaping the benefits of such training in terms of the volume of revenue being generated and the level of compliance by traders, regarding the fiscal policies.
"We recorded remarkable seizures of cocaine, valued at N2 billion according to a report handed over to us by the NDLEA.
"We also handed over recovered stolen exotic SUVs to Interpol Nigeria for onward repatriation to U. S.
"We also seized a cache of arms (pump action riffles totaling 2,010 which eventually necessitated the recent visit of Mr President to Turkey with other top government officials to see ways of curbing the menace," he said.
The Customs boss suggested infrastructure upgrade (road networks to the port) scanners and other equipment, to enhance the output of the service.
Bashar assured that the Command would continue to enhance the standard of its statutory functions through commitment to duty by its officers and men.
Earlier, the Chairman of the committee, Dr Casimir Anyanwu, expressed delight over the achievements of the command in the past 18 months.
He also lauded the Command for the consistent progress made in revenue generation, capacity building as well as seizures.
Anyanwu said that the primary objective of the sub-committee was to examine, across board, the accounts of the three tiers of government.
The exercise was to ensure that all accruable revenue to the Federal Government coffers is duly accounted for.
He said that the committee had the mandate of the Comptroller-General of Customs, retired Col. Hameed Ali, (rtd) to visit Customs commands to ascertain their strengths, weaknesses and challenges.
Anyanwu said based on its findings during the visit, that the committee would advise the Federal Government appropriately.
He described Tin Can Port as a major gateway to the resources of the country and very key to the Nigerian project.