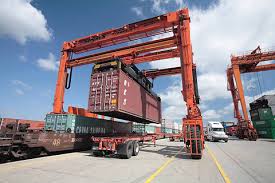 The Tin Can Island Command of the Nigeria Customs Service said it would soon introduce a new electronic information system called Time Release Studies as part of effort to ensure speedy cargo clearance from the port.
This is even as the newly appointed Controller of the command, Comptroller Musa Baba has directed that the Dispute Resolution Committee which hitherto used to meet twice a week, meets on daily basis to oversee complaints arising from PAAR, disagreement in cargo valuation and classification.
Public Relation officer of the command, Uche Ejesieme who disclosed this in a chat with SHIPS & PORTS DAILY in Lagos said the Time Release Studies is an initiative of the Controller.
According to him, the essence of the Time Release Studies is to monitor the frequency and the movement of Single Goods Declaration entries with a view to avoiding unnecessary delays in cargo clearance.
He said "For example, if an agent lodges his SGD in the morning, the Time Release Studies will monitor how long it takes for the SGD to be captured, how long it take for the agent to come for examination and for customs to release and exit so that from the comfort of your office and from the systems, you will know where there are delays and the system will be taking note of that. At the end of the day, we harmonised it and raised questions and address areas that there are delays.
"The Controller has also directed that the Dispute Resolution Committee meets on daily basis. For example, we have seen cases where somebody claims that he uploaded documents to PAAR ruling centre for a particular consignment that is supposed to be five percent but PAAR gives 20 percent.
"In such situation, what they are required to do is just to write to the Controller and attention the Dispute Resolution Committee for physical examination to see who is actually right and see how the issue is resolved because they are ones on ground."
He said the Controller had also met with releasing officers, CIU, examination officers and terminal heads with a view to ensuring seamless cargo clearance at the command warning that he won't accept any form of laxity in his mandate.
"In view of that, he has directed that, some of the multi-national companies who have been known to be compliant with fiscal policies must be encouraged by ensuring speedy release of their cargo and areas of unnecessary documentation removed so that they can have quick turnaround," Ejesieme said.