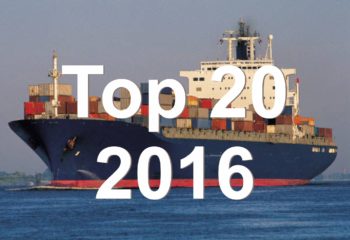 This year the Ships & Ports website remained very active and busy, setting new standards in maritime reportage and creating new records for pageviews and volume of visitors. We had visitors from almost every country of the world including Nigeria, Kenya, UAE, United States of America, United Kingdom, Netherlands, India, Indonesia, Russia, Philiphines and Canada among others.
Without a doubt 2016 has been a tough year for the maritime and oil and gas industries, but we kept faith with our readers and advertisers. While thanking God for taking us this far, we look forward to 2016 with high hopes.
As we bid 2016 goodbye, it is our pleasure to bring to your memory the 20 most read stories on our website in 2016. We exclusively broke most of these stories, which virtually went viral, with several newspapers and other online news sites rehashing them or simply playing catch up.
1. NPA orders staff to stop wearing mini-skirts, spaghetti tops, jeans to work
2. NPA MD turns activist again, calls for boycott of DSTV for 'extortion'
3. Stakeholders unimpressed as Customs slashes forex rate again for duty calculations
4. NIS, CIS, Stars Academy missing as NIMASA releases list of accredited maritime academies
5. EXCLUSIVE: NPA promotes 26 Principal Managers to AGMs, as facts emerge on London rep position
6. Uproar on social media as Nigerians react to NPA ban on mini-skirts, jeans trousers
7. Mass sack looms in NPA; 700 to go next year 
8. NIMASA suspends nine top staff over alleged N38.2billion fraud
9. 50 Customs officers face sack over corruption 
10. Three major shipping lines quit Nigeria as freight rates crash
11. PICTURES: For the first time in 30 years, cattles arrive Lagos by train
12. Navy plans to establish own maritime university, operational base in Lake Chad
13. EFCC releases details of how Akpobolokemi, Tompolo allegedly looted NIMASA
14. New NPA board cancels multibillion naira multiple projects over lack of due process
15. Customs releases list of sacked senior officers as stakeholders applaud Ali 
16. Undercover reporter exposes corruption, forgery in Customs, cargo clearance at seaport
17. NPA begins recruitment of new workers 
18. Militants group mocks Nigerian military, claims responsibility for fresh pipeline attack 
19. BREAKING NEWS: Buhari approves governing boards for NPA, NIMASA
20. Ex-NIMASA DG, Akpobolokemi in court with broken leg, as court orders Tompolo's arrest