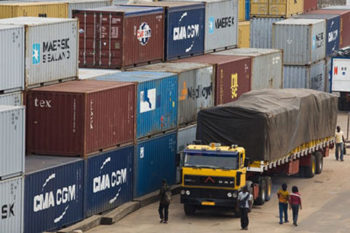 Despite the Executive Order signed last month by the Acting President, Professor Yemi Osinbajo, on ease of doing business in the country and subsequent warning by the Federal Airport Authority (FAAN) for touts to steer clear of the airports, the warning seems to have fallen on deaf ears.
SHIPS & PORTS DAILY discovered that the touts still operate at the airports.
From investigation, what the touts do now is that they dress neatly and pretend they are travelling. They target people who they suspect are new to the airport or confused about where to get the ticket they want.
They approach the person nicely and offer to help at the end of which they charge some amount for the help they offered.
SHIPS & PORTS DAILY also discovered that while the professional touts may have reduced in number, the airport staff have now taken over.
One of the travellers on Monday, Tope Ola said, "They said touts should leave but I still see them here. In fact the staff themselves are doing the touting. When I came one of the staff who positioned himself where he will get a good view approached me and asked what I wanted.
"I told him I wanted to inquire about Abuja ticket and that I intend to travel the next day.  He offered to help and took me to three ticketing sections where I saw different ticket fares for the same airlines. I told him I will come back to buy and he insisted I should call him when I come.
"Although the touts could be helpful sometimes when you want information but it's just sickening because they are all over you within a second forcing you to do what you don't want," he said
When contacted FAAN Acting General Manager, Corporate Affairs, Henrietta Yakubu, she said the Authority is working on ridding the airport completely of touts.  
"These touts are diehards but I assure you we will be rid of them. When we apprehend them, we hand them over to the police," she said, adding "please refuse to patronise them."
Penultimate week, the Managing Director of FAAN, Engr. Saleh Dunoma, said the organisation had initiated the implementation of the Executive Order given by the Acting President.
A press release signed by Yakubu, said "Engr. Dunoma assured the Acting President of full compliance and has immediately put in place machinery to ensure a successful implementation of the Executive Order which he will supervise himself.
"He said the importance of the Executive Order cannot be overemphasized, especially because it will strengthen the nation's fight against terrorism, eliminate unnecessary bureaucracy that impedes business activities at our airports. He also added that, this will improve safety, security and passenger facilitation within and around the airport."