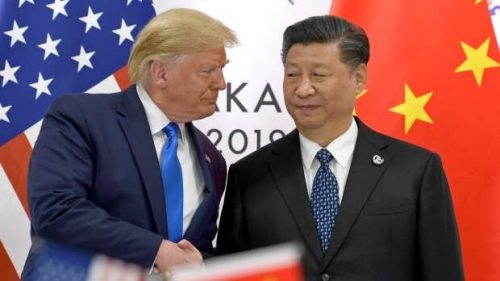 China unveiled on Friday retaliatory tariffs against about $75 billion worth of U.S. goods, putting an additional 10% on top of existing rates in the latest tit-for-tat exchange in a protracted dispute between the world's top two economies.
The latest salvo from China comes after the United States unveiled tariffs on an additional $300 billion worth of Chinese goods, including consumer electronics, scheduled to go into effect in two stages on Sept. 1 and Dec. 15.
China's commerce ministry said in a statement it would impose additional tariffs of 5% or 10% on a total of 5,078 products originating from the United States including agricultural products such as soybeans, crude oil and small aircraft. China is also re-instituting tariffs on cars and auto parts originating from the United States.
"China's decision to implement additional tariffs was forced by the U.S.'s unilateralism and protectionism," the Chinese ministry said in a statement, adding that its retaliatory tariffs would also take effect in two stages on Sept. 1 and Dec. 15.
U.S. equity index futures fell on the news of China's tariffs, pointing to opening losses on Wall Street.
White House trade adviser Peter Navarro told Fox Business News separately that trade negotiations with China would still go on behind closed doors.
The U.S. Trade Representative's office had no immediate comment on China's tariffs announcement.
Trump retaliates 
President Donald Trump said on Friday the United States would subject Chinese imports to an additional 5% tariff in response to what he called a politically motivated move by China to impose tariffs on $75 billion worth of U.S. exports. "Sadly, past administrations have allowed China to get so far ahead of Fair and Balanced Trade that it has become a great burden to the American Taxpayer," Trump said on Twitter. "As President, I can no longer allow this to happen!"
He said the United States would raise its tariffs on $250 billion worth of Chinese imports to 30% from the current 25% beginning October 1.
At the same time, he announced an increase in the planned tariffs on the remaining $300 billion worth of Chinese goods to 15% from 10%. The United States will begin imposing those tariffs on some products starting September 1, but tariffs on about half of those goods have been delayed until December 15.
Copyright Ships & Ports Ltd. Permission to use quotations from this article is granted subject to appropriate credit given to www.shipsandports.com.ng as the source.