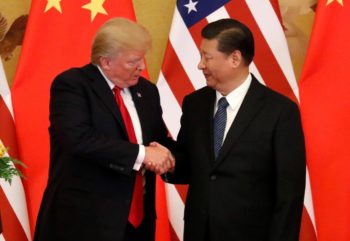 The United States on Thursday slapped steep tariffs on another $16 billion in Chinese goods, triggering a swift tit-for-tat retaliation from Beijing.
This is even as negotiators from both sides seek to soothe trade tensions.
The latest action completes the first round of $50 billion in Chinese products that President Donald Trump targeted with Beijing striking back at American products dollar-for-dollar at each step.
China "firmly opposes the tariffs and has no choice but to continue to make the necessary counter-attacks", the commerce ministry said in a statement.
Beijing hit back with tariffs on an equal amount of U.S. goods, targeting iconic products such as Harley-Davidson motorcycles, dump trucks and asphalt, among hundreds of others.
China's commerce ministry said the U.S. tariffs were "clearly suspected of violating WTO rules" and noted it would file a lawsuit against them under the WTO's dispute resolution mechanism.
The escalation came as the world's two largest economies hold their first formal discussions since June on the spiralling trade war.
Trump has pushed aggressive trade actions to lower the U.S. trade deficit, which he equates with theft from Americans. But U.S. trading partners have retaliated aggressively, which is hurting American farmers, manufacturers and consumers.
U.S. businesses have become increasingly concerned about the tariffs, which are raising prices for manufacturers and could hurt the economy, although the prospect of a negotiated solution buoyed world markets this week.
However, Federal Reserve officials have warned that "an escalation in international trade disputes was a potentially consequential downside risk for real activity," according to the minutes of its July 31-August 1 policy meeting.
A large-scale and prolonged dispute likely would adversely impact business sentiment, investment spending and employment, the officials warned, and boost prices, which would "reduce the purchasing power of U.S. households."
Agency Report