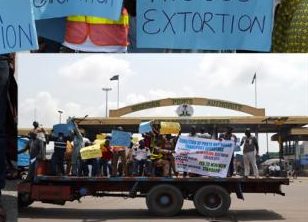 Aggrieved truck drivers and their motor boys on Monday shut major roads in Apapa as they protested alleged extortion by officers of Nigerian Navy and other security agencies.
The protesters, bearing placards with various inscriptions, marched through Creek Road to Liverpool before diverting to Point Road where they prevented cargo-laden trucks from exiting Apapa.
The truck drivers accused the naval officers and other security agents of collecting as much as N40, 000 from them for each truck before such trucks are allowed access into the ports.
The protesters said the march is part of an ongoing strike action by the truck operators aimed at drawing government attention to extortion of haulage operators at the ports in Lagos.
Speaking to journalists on the protest. The Vice Chairman, Dry Cargo Section of the National Association of Road Transport Owners (NARTO), Inuwa Abdullahi, described the extortion as real as it happens in broad daylight.
He said aside the navy, all other uniform security agencies at the ports including those not on duty come around at night to demand money from the truck drivers.
Abdullahi added that the security agents create artificial traffic bottlenecks to give room for extortion and sometimes open spaces only for those who pay to pass through.
The Chief Information Officer of Western Naval Command, Commander Chinwe Umar, described the allegation as false.
She said it is not new for truck and tanker drivers to make baseless allegations against the Navy. She challenged the leadership of haulage operators to come forward with evidence of extortion against any naval personnel.