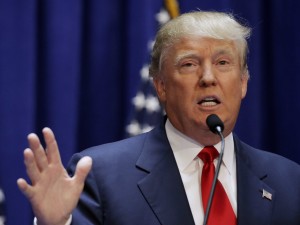 U.S. President Donald Trump's administration has dropped plans for an executive order that will require all U.S. food aid to be transported on American ships after members of Congress protested, congressional and aid sources said on Friday.
The media reported on Thursday that Trump was considering issuing an order that would have increased to 100 percent the current requirement that 50 percent of such aid be transported on U.S.-flagged vessels.
Senator Bob Corker, the Republican chairman of the Senate Foreign Relations Committee, stopped short of confirming information about the order but said he had discussed the issue with Trump and that he understands that the shift would have increased the cost of food aid and caused more people to starve.
"I had a good conversation today with President Trump," Corker said in a statement emailed to Reuters.
"As a businessman, he understands that expanding the cargo preference would substantially drive up the cost of food aid and cause more people to starve around the world," Corker said.
The White House did not immediately respond to a request for comment.
Although unlikely to have any significant effect on the $4 trillion global cargo shipping industry, the initiative originally touted as part of Trump's "America First" platform might have slowed food aid getting to millions of people and do little to create jobs, critics said.
Aid groups, and members of Congress from both parties have been working for years to lower, or eliminate, the 50 percent shipping requirement. The United States, the world's largest provider of humanitarian assistance, spent about $2.8 billion on foreign food aid in 2016. About half of that is estimated to go to shipping and storage.
The conservative-leaning American Enterprise Institute said in a November report that shipping food aid on U.S.-flagged vessels costs 46 percent more than aid shipped at internationally competitive rates and can take as much as 14 weeks longer.
Jeremy Konyndyk, a former director of USAID's Office of U.S. Foreign Disaster Assistance, welcomed the administration's decision to drop the order.
Konyndyk, a senior policy fellow at the Washington-based Center for Global Development, said that with four potential famines in the world "it would have been the worst possible moment to be shifting money out of hungry mouths and into subsidies for big shipping conglomerates."
Corker has been pushing for years to reform the U.S. food aid program, including by eliminating the cargo preference. He said in his statement he looked forward to working with Congress and the administration to achieve "long overdue reforms."
After hearing about the possible executive order, several members of Congress called the White House to express their concern, congressional aides said.
The administration's budget proposal has suggested slashing foreign aid in general while increasing defense spending.
That plan was also met with stiff opposition in Congress, as lawmakers argued that "soft power" options such as food and medical aid and disaster recovery assistance can be effective tools in foreign policy that should not be discounted.
Supporters say Trump's initiative would not only create new U.S. jobs in the shipping industry but that U.S.-controlled food shipments are important for national security because the U.S. fleet could be transferred to the military in case of a conflict.
Food aid is a very small percentage of the worldwide sea cargo flow, critics argue, while the security issue is moot as most cargo ships are too slow for use by the 21st century military.
They said the costs would also be far higher by eliminating competition for shipping contracts with lower-cost international carriers, requiring more U.S. taxpayer dollars to feed fewer people. 
Copyright Ships & Ports Ltd. Permission to use quotations from this article is granted subject to appropriate credit given to www.shipsandports.com.ng as the source.