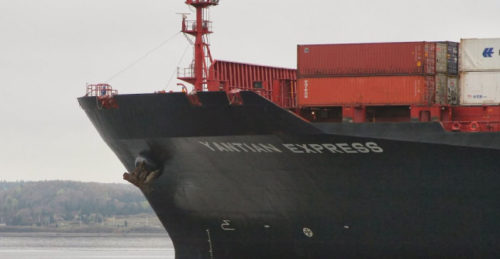 The discharge of undamaged containers from the fire hit Yantian Express has started in the Port of Halifax, Nova Scotia and is expected to take at least 12 days.
The containership, which was hit by a cargo fire on 3 January, arrived in Halifax on 20 May and started to discharge cargo on 21 May according to Ocean Network Express (ONE), and alliance partner of owner Hapag-Lloyd.
Over 3,200 containers have to be discharged from the vessel and while the whole process will take around 85 hours at times the Yantian Express will have to shift up the berth to make way for other vessels that regularly call the port as a result the actual discharge of boxes is expected to 12 days or more.
The containers will be separated into those where general average and salvage security has been paid, for onward delivery, and those where security has not been paid, which will not be delivered.
"In respect of the forwarding of secured containers to final destination, please appreciate that the terminal cannot dig out or "cherry pick" specific containers once stacked ashore. Thus, secured containers will be moved to the rail (or transhipment vessel) for delivery in the most efficient and expedient manner in order to speed up the overall handling," ONE said in advisory to customers.
Following the discharge operations the Yantian Express will reload empty containers for stability purposes for a voyage to Asia for permanent repairs.
The Yantian Express suffered a container fire in the Atlantic on 3 January while on a voyage from Colombo to Halifax, Nova Scotia, and the severity of the fire forced the crew to abandon to ship while salvors brought the blaze under control.