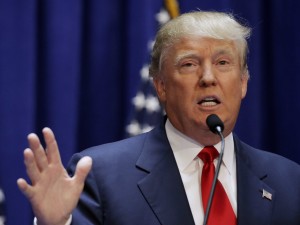 President Donald Trump has said that for war against terrorism to be won, his country must be "proactive and nasty."
He said this in a series of tweets via his verified Twitter handle.
Condemning the Friday morning London Green Tube terror attack that left 22 injured, Trump described the attacker as "a loser terrorist," and terrorists in general as "sick and demented people."
He condemned the Scotland Yard for being unable to recognise the terrorists who he believes are hidden in plain sight, urging the territorial police force to be proactive.
He also used the tweet to award a pass mark to his administration, saying it has made more progress in the war against terror within nine months, far better than his predecessor, Barack Obama, had done in eight years.
He advocated cyber censorship, saying since the Internet is the terrorists' "recruitment tool," it must be "cut off" and put to better use.
He added that the travel ban into the United States should be "far larger, tougher and more specific."
See the tweets:
We have made more progress in the last nine months against ISIS than the Obama Administration has made in 8 years.Must be proactive & nasty!

— Donald J. Trump (@realDonaldTrump) September 15, 2017
Another attack in London by a loser terrorist.These are sick and demented people who were in the sights of Scotland Yard. Must be proactive!

— Donald J. Trump (@realDonaldTrump) September 15, 2017
Loser terrorists must be dealt with in a much tougher manner.The internet is their main recruitment tool which we must cut off & use better!

— Donald J. Trump (@realDonaldTrump) September 15, 2017
Another attack in London by a loser terrorist.These are sick and demented people who were in the sights of Scotland Yard. Must be proactive!

— Donald J. Trump (@realDonaldTrump) September 15, 2017