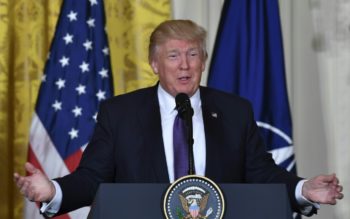 Latin America's most technologically advanced shipping terminal opened in Mexico early this month, with a ceremony attended by heads of state and shipping industry royalty.
But the ambitious project faces an uncertain future as U.S. President Donald Trump weighs new trade barriers.
Major importers such as Wal-Mart Stores Inc., WMT -0.39% Samsung Electronics Co. and Target Corp. TGT -0.02% see Lázaro Cárdenas as a key link between Asia's factories and Mexico's growing middle class. They also hope to use the port as a backdoor to the U.S., bypassing congested West Coast ports via the "Nafta Railway," a network of track operated by U.S. railroad Kansas City Southern KSU 0.56% that can shuttle goods as far north as Memphis.
APM Terminals, a unit of the world's biggest shipping company, A.P. Moller-Maersk, spent five years and $568 million on the new terminal. APM hopes to spend up to $900 million to expand capacity at the terminal to rival the Port of New York and New Jersey by the end of the next decade.
But what looked like a sure bet five years ago is less certain today. President Trump has threatened to penalize manufacturers that move operations to Mexico and wants to renegotiate the North American Free Trade Agreement. Republicans in Congress have floated a "border-adjusted tax" that would raise the cost of imports.
Any of these measures could deal a blow to U.S.-Mexico trade, shipping companies and analysts say. Mexico's imports have grown more than 30% since 2010, according to the World Bank, and container volumes are up 60% in the past three years at Lázaro Cárdenas' older facilities, according to trade data firm Panjiva. Auto parts make up a big part of those gains.
"The port is a microcosm of global trade flows," said Christopher Rogers, a research analyst with Panjiva. He added: "it's very exposed to the auto industry."
Danish conglomerate Maersk, which once touted the new terminal's "near-sourcing benefits," a reference to manufacturers producing goods in Mexico and selling them in the U.S., now says it is focusing more on using the port to import goods for Mexico's consumer market.
In an interview this month, Maersk Chief Executive Soren Skou said "the main purpose of the terminal is to be a gateway terminal for the Mexico City market," with cross-border trade secondary.
"The U.S. administration has made a number of statements that impact our business on the positive side," Mr. Skou said. "Then there are the discussions about trade deals, and some of the rhetoric seems more protectionist…It's really hard for us to judge how this will affect our business."
APM's terminal unloaded its first ship in February, and the port formally opened with a ceremony in early April attended by Mexico's president Enrique Peña Nieto and Danish Prime Minister Lars Løkke Rasmussen.
Mexico's government sees developing the port as a priority. In 2013, amid rising drug cartel violence and illegal smuggling, Mr. Peña Nieto deployed thousands of troops to the port and handed over its security to the navy, which still maintains a garrison there.
At the ceremony earlier this month, he called the terminal "a testimony to how Mexico has been growing, how it has become a trustworthy destination…that is crucial for the transit of goods bound for the important consumer market that is Mexico, and from here to other important consumer markets."
However, in recent months, Mexico's president has also said the country will pursue trade deals with Vietnam and Japan and work more closely with China.
"Mexico's path forward is to participate more in world trade, not just to trade with North America," said Walter Kemmsies, an economist who specializes in ports and shipping. "The investment at Lázaro Cárdenas makes sense, because it's a gateway to trade with Asia."
On a stiflingly hot morning in late March, giant cranes lifted hundreds of metal boxes from the container ship Charlotte Maersk amid the soft hum of robotic machinery.
The new terminal features towering 300-foot-tall ship-to-shore cranes that can span the largest container ships currently plying routes between Asia to North America.
The cranes can pluck two containers at a time from ships, then deposit them in piles. Robotic stacking cranes that run on electricity—rather than the usual diesel—use artificial intelligence to arrange the piles in the most time- and cost-efficient order. Such semi-automated systems are common at port terminals in the Netherlands and Singapore, but have never been used in Latin America.
The facility is expected to employ about 550 people—or 250 fewer than a similar-size terminal without automation—which makes for fewer accidents and lowers container handling costs by 20%, APM says.
"I've never seen a terminal this technologically advanced," said Miguel Ángel Dominguez, a supervisor for cargo operations at the terminal. "It's much safer, much more dynamic, much more mechanized."
Source: Wall Street Journal
Copyright Ships & Ports Ltd. Permission to use quotations from this article is granted subject to appropriate credit given to www.shipsandports.com.ng as the source.