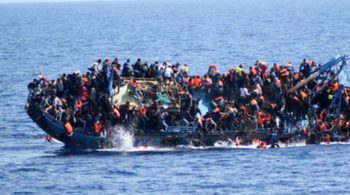 Tunisia's coast guard on Thursday said it recovered the bodies of five migrants whose boat sank as they tried to cross the Mediterranean to the Italian island of Lampedusa.
The coast guard added that crews were now searching for another five Tunisians that relatives had said were also on the boat that set off this week from the southern coastal community of Zarzis.
Human traffickers are increasingly using Tunisia as a launch pad for migrants heading to Europe as the Libyan coast guard, aided by armed groups, has tightened controls.
Many Tunisian migrants say they are fleeing high unemployment and inflation – part of an economic crisis that hit after the toppling of autocrat, Zine al-Abidine Ben Ali, in 2011.
At least 80 migrants died when their boat sank off the Tunisian coast in June, one of the worst migrant boat accidents in the North African country in recent years.
Agency Report